From Business Tools to Results: A Guide to Automated Business Intelligence
As you may have guessed, business intelligence is a way for businesses to gain insight into their operations. It's used to help companies make better decisions about their strategies and how they're going to grow.
But where to start? Business Intelligence (BI) can be a powerful tool for any business, but it's especially important for companies that rely on innovation and creativity as part of their core value proposition.
This means that tech-focused companies should take advantage of automated business intelligence to gain insight into how they're doing—and how they can improve.
---
Understanding Business Intelligence Functionalities
BI refers to the collection, analysis, and management of data in order to make informed decisions. It helps companies understand their customer's behavior, improve their products and services, optimize their operations, and increase profits.
Business intelligence functionalities include tools that can help companies gain insight into their customers' preferences by analyzing data such as social media posts or mobile app usage patterns. This allows them to tailor their offerings to better meet customer needs and requirements.
For instance, if you are an e-commerce company selling electronics products online, then you may have noticed that your customers prefer laptops over smartphones because they want something more versatile when it comes to functionality. If this is the case, then you would need some form of BI software in order to make sure that your offerings reflect this preference so that you're not losing potential sales due to a lack of product variety or poor sales tactics.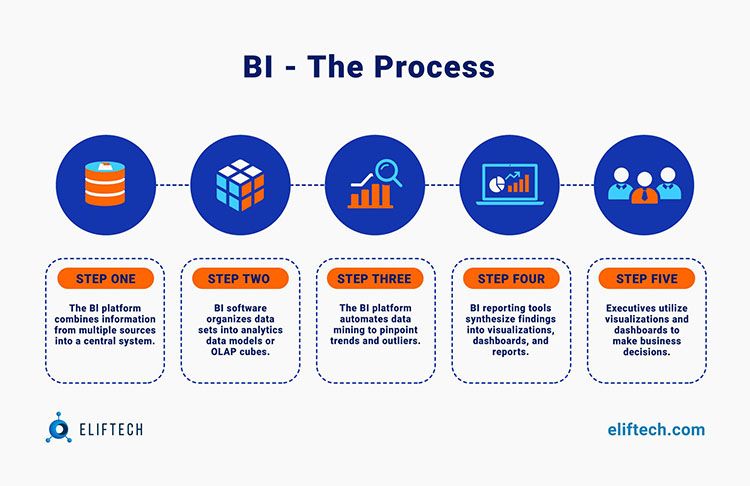 Data Science vs Business Intelligence
Data science and business intelligence are two of the most popular buzzwords in tech. They're often used interchangeably, but they're actually not quite the same thing.
Data science is the scientific study of data, while business intelligence (BI) is more focused on how to make use of that data to help a company make better decisions. In a nutshell, automated business intelligence collects data from various sources and puts it in a format that can be analyzed and reported on.
BI is focused on reporting—what happened, why it happened, and what might happen next.

BI is usually focused on the analysis of historical data, which can be used to predict future trends and make informed decisions about things like marketing campaigns or new product launches. BI can also help figure out how well an organization's existing processes are working by looking at historical data and comparing it against benchmarks set by previous performances.
Data sciences, in contrast, takes a more methodical approach to analyzing data. It's not just about reporting; it's about understanding what's happening and why so that you can make informed decisions.
Data scientists use their own methods to find patterns in large datasets that might not be obvious from looking at individual records or charts alone—like finding correlations between different types of weather conditions and whether people tend to stay home from work when it rains. Data scientists also use machine learning techniques like neural networks or genetic algorithms to find patterns in those datasets that may not have been previously identified by humans.
So what's the difference? The main difference between these two roles is where they focus their efforts:
Data analysts tend to focus on the quality of their data, and they often have more of a business background. They might spend time cleaning and structuring data, looking for outliers or missing data points, and identifying trends that can help inform decisions about what products to develop or how to market them.
Data scientists are more likely to focus on finding new insights in existing datasets by using machine learning algorithms or other techniques.
Benefits of Business Intelligence
The benefits of automated business intelligence are many and varied, but the biggest one is that it can help you grow your business. The goal of BI is to help you make the best decisions for your company by making it easier for you to understand your data.
Better Decision-Making
BI tools can help you make smarter decisions by providing you with up-to-date information about your business's performance, allowing you to see the big picture and make informed decisions based on the data available.
BI can help you identify trends in your business so that you can respond more quickly and effectively. You can use BI to gain insights into customer behavior so that you're able to anticipate their needs and meet them before they know they need something—and even have a better understanding of what they want based on their behavior.
Cost Savings
And if that wasn't enough, BI also gives you access to real-time analysis so that you can make quick adjustments as needed without having to wait for reports or manually check the numbers every day. BI helps streamline operations and make them more efficient by providing a single source of truth about everything from marketing campaigns to sales numbers.
BI tools can help prevent costly mistakes by providing accurate data about what's happening in real time, so managers know exactly what's going on within their departments at all times. That way, they don't have to wait until the end of the fiscal quarter or the fiscal year before they realize they're running out of money—they'll know right away!
Increased Employee Productivity
When all levels of management have access to information about customers and competitors, they can collaborate more effectively, leading to greater efficiency and profitability overall.
And when employees have access to data about customers or competitors, they are able to work more efficiently because they know exactly what needs doing next time around (rather than relying on guesswork).
Improved Customer Service
BI tools can give you better insight into your customer's needs and behavior patterns, which can help you improve their experience by making things easier for them. For example, if you notice that many customers are having trouble finding a particular product on your site, you might be able to add a search function that points them directly to that product instead of requiring them to scroll through every product category. This will save time for both yourself and your customers.
So are you ready to unlock the full potential of your data? Our custom BI solutions are the answer. Get in touch with our team and see the results for yourself.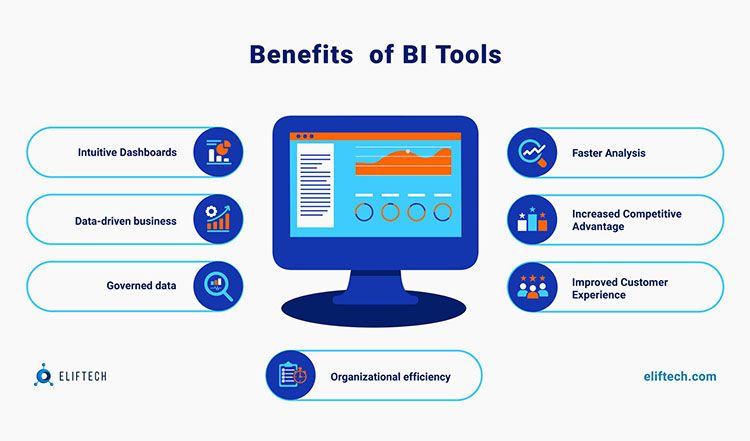 Application of Business Intelligence: Use Cases
If you're not sure how to use business intelligence software for your business, here are some ways that companies in the tech industry use BI.
Business Intelligence for Retail
Companies that sell products online need a way to track how many people actually bought their product after visiting their website or seeing an advertisement somewhere else online (like Google AdWords). This is where sales funnels come into play. They help you see the number of people who converted from visitors to leads to customers, and they can also show you how much money each customer spent on your product or service.
What's more, BI tools can help companies understand how their customers interact with their products so they can improve their marketing efforts. They'll be able to see which areas of their website are performing well and which ones aren't converting leads into customers as well as they'd hoped. They'll also be able to identify which channels they should focus on more heavily when trying to reach new customers (for example, social media vs email outreach).
Business Intelligence in Finance
The term BI is a pretty broad term that can mean a lot of different things in the business world. But when it comes to financing, there are two main types: Operational BI and Strategic BI.

Operational Business Intelligence is used to make day-to-day decisions about how your company operates. For example, if you're running a grocery store chain, this type of business intelligence will help you figure out where to place new stores so that they'll do well. Or, if you're a bank, this type of business intelligence might help you figure out how many tellers you should have at each branch or what kinds of loans customers want most often.

Strategic Business Intelligence is used for big-picture planning about how your company will grow over time. For example, it might help predict what kinds of products will be popular in ten years or how many customers there will be in 20 years. Or it might help determine how much money your company can spend on marketing every year before it reaches profitability—and then plan accordingly.
Business Intelligence for Healthcare
Healthcare is a field that relies heavily on data to drive decisions. From determining the best treatment plan for a patient to understanding the effectiveness of certain procedures or medications, healthcare providers need to be armed with reliable and accurate information. One of the most important sources of this information is BI.
In healthcare, data can be collected from many different sources: patient records, billing records, medical equipment usage records, clinic appointments, and scheduling services. By gathering all of this data into one place and analyzing it together, you can get a more complete picture of your business operations than you could get by looking at each piece individually.
BI can be used to evaluate performance, track trends, and identify areas where improvements are needed. It can also provide insight into how well a healthcare organization is meeting its goals and objectives. By analyzing data from multiple sources, BI provides decision-makers with valuable insights into how they can improve operations and patient care delivery.
Read more: Healthcare Business Intelligence: The Key to Better Business Decisions
Business Intelligence in the Travel and Hospitality
The travel and hospitality industry is constantly evolving, and it's not always easy to keep up. Between the ever-changing regulations that affect everything from tax rates and health insurance coverage to the rapid development of new technologies, it can be challenging to stay abreast of the latest trends. And when it comes time to take action based on those trends, it's even more difficult—how do you know which new technology or policy will have the biggest impact on your organization?
That's where automated business intelligence comes in. Business intelligence is a set of tools that help you analyze data across different departments and divisions in order to identify trends and make informed decisions about how best to proceed with your company's growth strategy.
With business intelligence, you can spot emerging problems before they become too big of a challenge; track employee turnover rates and geographic shifts in customer bases; monitor market changes; predict revenues and expenses; identify opportunities for future development; improve productivity across multiple areas of your business; and much more.
Business intelligence isn't just about crunching numbers either—it's also about making sure everyone in your organization understands what their role is within the context of those numbers' meaning so that they know how best to approach their work. With a good BI solution, you can make sure that everyone in your company is working toward the same goals and on the same page.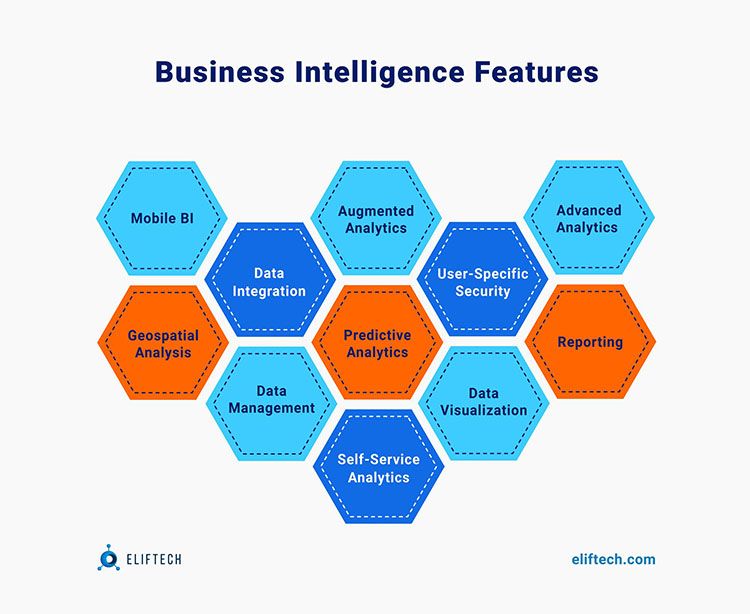 How Would the Technology Industry Use Business Intelligence?
The technology industry is one of the most innovative and fast-paced industries in the world. It's also one of the most data-driven. With so much data at their fingertips, businesses in this sector have a huge opportunity to use business intelligence (BI) to make better decisions, stay ahead of competitors, and build better products.
The ability to understand what people are actually doing with a product or service is incredibly valuable when it comes to planning future products and services. This can help companies avoid problems like introducing too many new features at once, which can lead to confusion among customers and ultimately hurt sales.
Business intelligence also allows companies in the tech industry to better understand what consumers want, which helps them make more informed decisions about future products and services. For example, if there's an issue with one product line but not another (e.g., an issue with one model but not another), then this information could be used by management when making decisions about whether or not they should discontinue production of that model or redesign it entirely based on customer feedback from social media posts and other sources like reviews on Amazon or Google Play Store reviews).
ElifTech's Expertise
At ElifTech, we believe that every company should be able to make informed decisions based on the data available to them. This helps to increase productivity levels within organizations and also helps them grow at a faster pace than their competitors.
We offer comprehensive custom solutions that include data warehousing, data visualization, predictive analytics, reporting, and dashboards, among others. All these solutions help businesses make sense of their data which results in better profitability for them over time.
We have the experience and expertise to handle all aspects of BI—from collecting data to analyzing it and presenting it in a way that makes sense to non-technical users. Our team of professionals has built up an extensive toolkit of skills that allow us to quickly develop custom solutions based on your needs. We use the latest technology to make sure your BI solution is secure, reliable, scalable, and easy to use.
Husky Intelligence is one of the ElifTech projects which is based on BI technology. Husky ERP helps users communicate with outside vendors, manage their work and services, and keep track of time. The goal was to integrate and synchronize a customer web portal with the Husky ERP to ensure secure data transfer.
Instead of Conclusions
A reliable and up-to-date business intelligence system is a must-have for businesses looking to stay ahead of the game. Whether you're a startup or an established company, having access to real-time data can help you make better business decisions. And it's not just about business decisions.
A BI system will also provide your company with a better understanding of its customers and their needs. This, in turn, helps you to improve customer retention and engagement, which can result in higher profits for your business overall.
Don't waste any more time manually analyzing data. Let us know about your project in mind and get on the way to real-time insights that will drive your business forward.
FAQ
The cost of developing a custom BI depends on the complexity of your business needs. We can help you find the right solution to fit your budget, so contact us today to get started.
ElifTech is a leading provider of software solutions that help businesses achieve their goals in a digital world. Our mission is to enable businesses to unlock their full potential by providing the right technology solutions that are easy to use and implement. With ElifTech, you will gain access to previously hidden "insights" by implementing BI into your operations.