How to Leverage Transportation Management Systems?
The global transportation management systems market is growing. It was valued at USD 9.22 billion in 2021. In the post-COVID-19 years, the transportation management systems market is projected to expand at a compound annual growth rate of 14.6% from 2023 to 2030. The rising popularity of autonomous and connected vehicles, coupled with the increasing adoption of cloud technology and industry 4.0, is expected to positively impact the market growth during the forecast period.
In addition, the transportation management application development software provides the opportunity to find the most cost-effective shipping options. With eCommerce affecting 96% of all shippers, leveraging the benefits of e-commerce and TMS software connectivity alleviates the market growth.
---
What Is a Transportation Management Systems?
A transport management system is a tool that helps you understand delivery process data and improve performance. The system can receive real-time data on each vehicle and analyze their performance, automate manual work, simplify order processing, and more. Simply put, it is a tool to speed up and streamline delivery while saving costs and labor for the organization.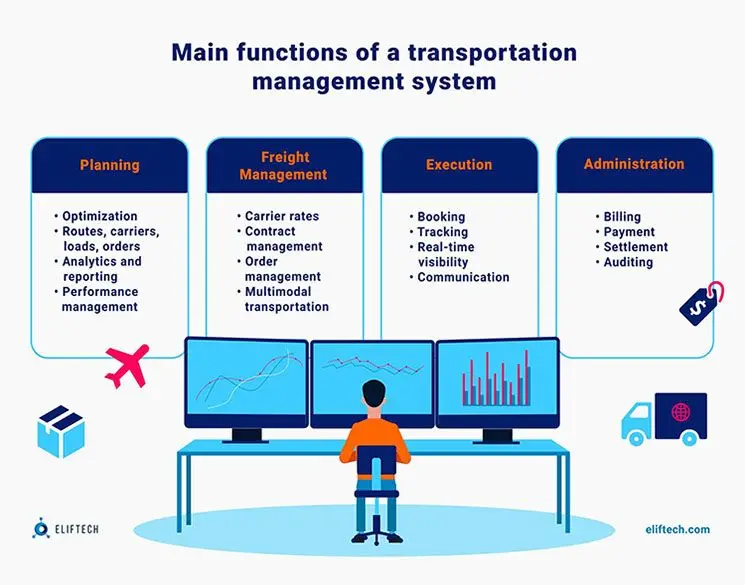 The Main Advantages of Transportation Management Systems
TMS software contributes to the reduction of logistics costs, optimization of transport processes, and effective monitoring of events related to transportation. TMS software is a comprehensive solution for all transport-related tasks, such as coordinating and organizing the transportation process by different vehicles. Therefore, it is perfect for diversified enterprises.
TMS software contributes to planning, monitoring, and calculating transportation prices in cargo delivery schemes. In addition to the standard set of functions typical for transportation management software, the advantage of TMS software is the connection with other products. Indeed, today it is impossible to separate transport services from storage services.
TMS system is a necessary tool for enterprises that provide transport logistics services like highway transportation, address delivery, and transportation of dangerous goods and goods with special temperature conditions. Moreover, it can become essential for logistics companies that deliver goods and cargo independently and achieve customer satisfaction - manufacturers or distributors. Therefore, the main task of TMS software is to offer a delivery route that will be the most economically beneficial for the company, accounting for all the transportation parameters. It should also be helpful for the client in terms of delivery time, transit time and cost, cargo preservation, and future reliability of the logistics operator.
One European construction materials producer operates with a rule that no matter what happens, the goods must be delivered within the timeframe specified in the contract. If, for example, a batch of building materials was made and returned to the warehouse two days late due to production disruptions, the logistics department finds – perhaps not the most profitable – but the swiftest way to deliver an order to the client. Such a policy helps reaffirm the commitment to put the client first.
Imagine how many parameters and restrictions need to be considered so that delivery to another part of the country can be a manageable minus. This company solves such transport tasks in its TMS software system because it already has criteria and parameters for choosing optimal delivery conditions in the mode of production force majeure. People simply did their job using a tool that worked effectively.
Who Uses Transport and Transportation Management Systems?
Companies the transportation management systems can become crucial for:
Transportation and logistics companies, which own cars of varying types and carrying capacities, require continuous fleet management. And the bigger the park, the better and more effective TMS software will be.
Companies that carry out trunk, inter, and multimodal transportation. In those cases when the types of vehicles change during the transportation of goods, or it is necessary to go through the procedures of crossing the borders of several states, possibly with intermediate storage in transshipment hubs - the information load on the logistics manager increases many times, and the accuracy and the speed of information processing drops.
Trade and distribution companies that deliver goods from their warehouses to a wide network of customers' stores and sales points.
Manufacturing companies must organize and control the delivery of raw materials and finished products throughout their customers' networks.
Freight forwarders, postal companies (private and state-owned), and courier services.
Companies in the field of services that provide services of address delivery of various goods and cargo within settlements.
Companies with construction equipment provide special services: garbage removal, maintenance of electrical networks, installation or repair work, etc.
Companies that provide passenger transportation services both within settlements and intercity, international shipments.
Agricultural entities that own all types of agricultural machinery (combines, tractors, fuel trucks) also have to control the transportation of farm products from the field to warehouses.
Things Are Globally Automated, No Matter the Domain
All internal processes that directly and indirectly affect transport logistics management are automated.
Automation is associated with the logic of automated processes, hardware, and transportation management system software complexes.
The application of modern transport management systems is wider than in the abovementioned areas. Modern transportation management system development is evolving very quickly, and who knows, maybe all delivery will be made by cargo drones and electric trucks with autopilots soon.
Thankfully, the software development company landscape is ready for these changes. More so, they are prepared to go further - courier drones in the service of logistics and transportation drones at the service of delivery and logistics departments have been all the rage since the pandemic. And it means that developers were creating guiding software to accomplish all the necessary tasks.
Why Do Companies Need Transport Automation?
Systematize and store all the necessary data (like administrative tasks and shipment details) and events for management decisions.
To increase the efficiency of the company and business in general.
To simplify freight audit and, if necessary, freight settlement.
To exclude the influence of the human factor as much as possible.
Enterprises may only sometimes have their fleet of vehicles, but they want to manage the delivery time of their goods to their clients. The logistics of a company that does not possess machines to work so that some "Gazelle," no matter with which state number and which driver, will deliver the goods to the client's store within an "11:00 to 11:15" frame. The system allowed us to pinpoint the specific type of car and the delivery time.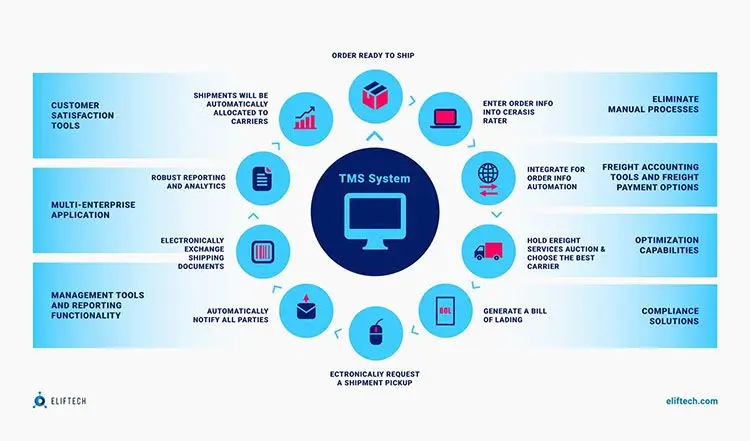 Otherwise, we need to calculate highway transportation costs and operational costs. Add up our earnings accounting for all logistics operations, delivery routes, transportation operations, dock scheduling, supply chain operations, loading and unloading, transportation ton/km or mileage from point to point, etc. Finally, but most importantly, we need to minimize the impact of the human factor, errors of low skill, and fatigue, to reduce the time spent on planning and finding out the causes of errors.
Example 1. A retail company with a large network of stores plans multiple fleet management projects (more than 200 vehicles) for
Transportation of goods between stores,
Collection of materials from suppliers,
Vehicle maintenance.
The company allocates up to 10 people and spends one to three hours daily discussing the work plan and optimizing the routes. This happens very cursorily since we find out where the cars and drivers are as we go along.
Example 2. The transport company could not deliver the machine for two days because it constantly needed clarification on settlements with the same name but located in different country regions. The difference in the route was 500 km of additional mileage. In its pure form – the human factor.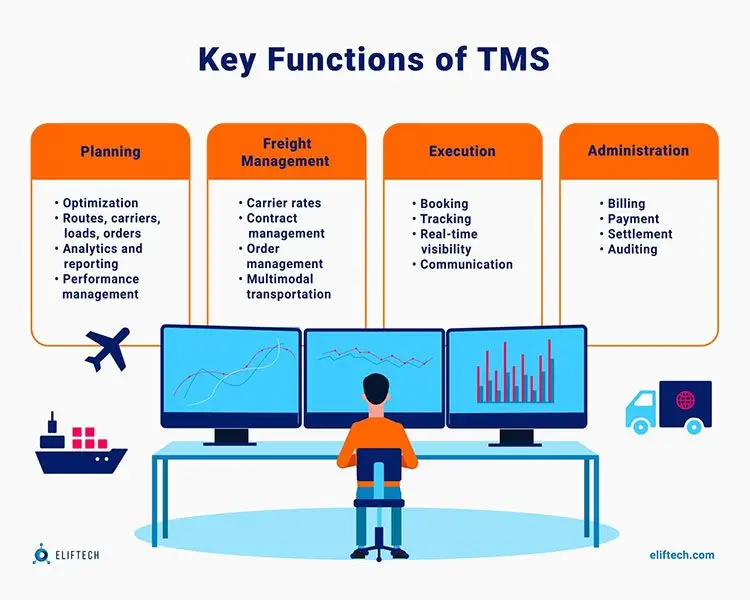 Let's see when it is worth thinking about the automation of transport logistics. Returning to the spheres and directions of business can be recommended to build a transportation management system, the most important criteria are:
You are a manufacturer/distributor of goods. Your company regularly delivers goods to a wide network of consumers.
You have ATP. Your car fleet is growing, and you notice decreasing controllability and transparency.
Manual system also offers transport control, but over time, it has become ineffective. You spend a ton of time planning and controlling.
Your transportation costs are rising out of proportion to your profits.
You are faced with non-targeted use of transport by drivers, or your contractors need to fulfill their agreements.
You own special transport. You have more than 30 units of office or service vehicles that require intelligent planning and control.
What Other Complex Problems Do We Observe in Transport Logistics?
Inefficient use of transport.
The planning process is based on subjective opinion.
It is not possible to change routes online.
No information for analytics.
Additional human resources are used.
High cost of transportation.
How to solve all these problems and make your logistics work more efficiently? And how to increase customer loyalty and make fewer mistakes and potential delays? After all, not only is reputation at stake, but profit and business survival are at stake, too. Of course, the transportation management system (TMS) is not a panacea. Instead, it is a tool that must be learned to use and applied with maximum efficiency. But let's see what it is and how to work with it.
Nowadays, it is not enough to simply buy or download an application and start using it. This software must be configured and adapted to the company's business operations. The following solutions and technologies are used for the complex automation of transport logistics.
Transportation Management System Software: The Secret Within the Box
Software and hardware solutions: computers, smartphones, TMS applications, cloud-based TMS software, cloud servers, cloud solutions, GPS trackers, controllers, and sensors. We help our clients realize their potential. We make business transparent from the inside, offering the opportunity to manage and control logistics and production processes. We use an individual approach, providing the client with the experience we have accumulated over 25 years of implementing and operating systems in the global market.
Basic functionality:
Competent calculation of prices for transport services.
Fast and accurate order management.
Enterprise resource planning (ERP) and formation of routes.
Service of various transport events.
Maintenance of contracts with third-party transport organizations.
Analysis and statistics of information on transport with logistics management software grade.
Leverage All the Benefits of the TMS
Companies that decide to implement a transportation management application development system and apply modern solutions, methods, and approaches can notice the results after 2–6 months of operation of the TMS system.
TMS provides a solution to all transport tasks, coordination, and organization of the transportation process by different vehicles, perfectly used in diversified transportation enterprises. The use of TMS software is indispensable both for companies that have their fleet of vehicles and for those who use hired vehicles in fleet management projects.
The key indicators that improve with adopting transportation management solutions:
Enterprise resource planning time is reduced by at least 20-30%.
99% fulfillment of customer requests.
The costs of maintaining the car fleet (PMM, mileage) are reduced by 12-30%.
The cost of car fleet maintenance was reduced by 12–25%.
Personnel productivity (dispatchers, logistic service providers, warehouse workers) increases by 15-40%.
Transportation Management Systems provides full control over all transportation and the activities of personnel, offering the ability to plan and calculate the costs and allowing you to achieve the best result in the long term. Automatic scheduling is a great way to avoid human error. Any company, regardless of its field of activity, can save time and efficiently use available resources.
However, the logistics and transportation industries are extremely demanding on the exact calculation of many parameters. Depending on the size of a trucking company, a transportation management application development system can involve dozens of vehicles distributed across thousands of kilometers.
Apart from the calculation of cost, the efficiency of delivery, the possibility to select transport, reloading at predetermined points, and the work of experts who have experience in specific areas, such as highway, multimodal, and address delivery, TMS software show:
Availability of systems and methods for business data analysis (especially logistics business), collection, and processing.
The application of project management for a quick and effective start of a transport logistics automation project.
The availability of a solution provider.
So, suppose we combine all of the above. In that case, the Transport Management System is software for planning routes, monitoring transport movement, and conducting plan-factor analysis of scheduled flights online. It is designed to automate the work of enterprises with an organizational structure of any complexity and optimized for work with numerous machines (from 10 to several thousand).
The mission of automated TMS is to help the transport departments of trade to match trade and manufacturing regulations and for logistics enterprises to use the available transport effectively, economically, consciously, and conveniently.
Plus, within the TMS platform, it is possible to single out separate modules for automating certain areas of transport logistics and logistic processes:
General transport management system.
Management of highway transportation.
Address delivery management.
Management of transportation of dangerous goods (ADR).
Management of transportation of fresh and frozen products.
System of GPS monitoring of all types of transport: car, railway, and water transport.
Management of a motor vehicle enterprise.
Management of agricultural logistics and field equipment (Agro TMS).
The transport management system can be integrated with other software solutions to automate and manage business and supply chain processes (especially within the supply chain management framework). For example, integration with all popular ERP systems and CRM, WMS warehouse management system, yard management, BI, GPS, and logistic document management systems.
TMS Software Capabilities for Logistics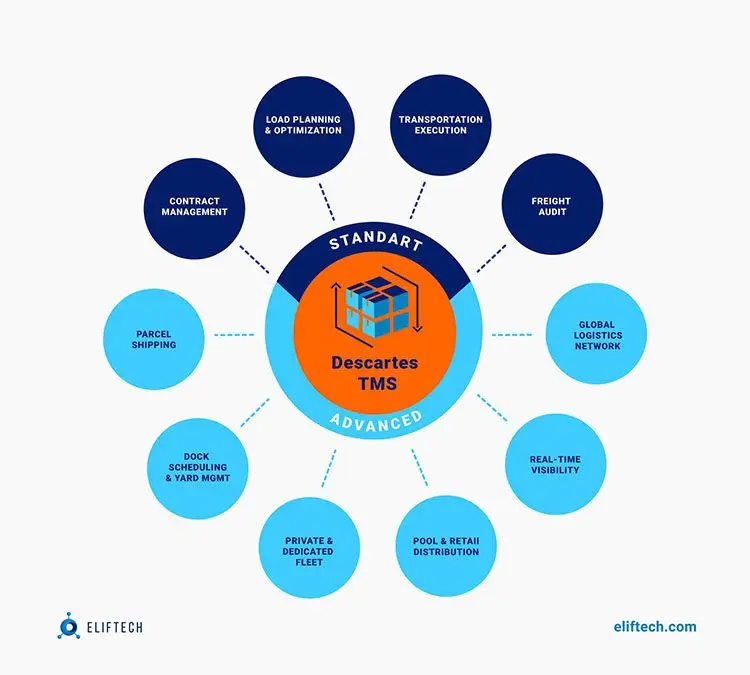 Let's look at the capabilities of the TMS software system from the point of view of logistics, transportation planning, and supply chain management. Here's what the system can do:
Automatically optimize & plan the route based on more than 100 parameters and conditions: parameters of delivery and loading points, cargo, VDH, mileage and detours, vehicle parameters, driver management data, transportation rates, PMM consumption rates, seasonality, etc.
Manage fixed routes: edit more than 30 route parameters and route points, set detour points, set event generation and route control rules (deviation, on-time/late execution, fixation radius, etc.), create routes along the track, including a pathway to a group, give users access to groups of routes, create copies of routes, shift the start time of the route.
Fix the vehicle along the route automatically (after passing a set of geofences specified in the route) and manually according to waybills.
Track the movement of transport online with online overlay maps like Google Maps.
Monitor events related to refueling, speeding, door opening, temperature changes, and much more.
Use mobile apps for the driver, forwarder, courier, sales representative, merchandiser, service engineer, and security service. They allow recording events and their statuses, like shipment information and shipment status, at route points.
Allocate rights and individual settings for separate groups of operators, dispatchers, and logistics specialists, including for regional branches.
Configure individual alerts for the logistics specialists, dispatcher, and driver (SMS, e-mail, pop-up interface messages).
Collect data online and compare the plan-fact using the business analytics module to analyze and forecast logistical (route forecasting) and economic (what will be the cost of a new route) events.
TMS software has the necessary set of reports, which allows you to quickly build (200,000 records in about 30 seconds) traffic reports, plan-fact, speeding, and so on. In addition, the report designer will enable you to visually create your columns and graphs from the list of available ones.
TMS Software Maintenance: Oil the Machine!
TMS, like any other system, must be developed and maintained, so if a large logistics company has its IT service, the main capabilities of the TMS software system from the IT side will be:
Modular architecture with the ability to create backup nodes, which allows you to avoid stopping the entire system when one module or node (physical server) fails. It also allows you to do horizontal scaling to increase capacity if you need to serve more requests per unit of time.
A flexible structure for assigning rights to users for functions (access to certain actions and certain directories) and data (access to part of the directory data). This allows the user to configure access to only those objects and functions necessary for their work.
The possibility of integration with the security system based on Active Directory allows you to centrally manage employee access to the software and other company resources.
All TMS software directories with access rights can download data to exchange files.
All user actions are recorded and can be viewed as reports.
TMS software can track driver's performance and shipments using a tracker, mobile applications for Android or iOS (or other mobile devices,) and work with various GPS trackers (any can be connected if there is an open data exchange protocol).
TMS software allows you to keep fuel consumption records by fuel level sensors and flow sensors.
However, IT support is only limited if you have a large company. All technical issues can be transferred to the "cloud" based transportation management database, and you can rent the software paying only for the functionality for logistics. But you can not rent custom software. The TMS software provider will handle all system setups, integration with the accounting system, and device connection.
On the other hand, custom software provides unique features, like digital assistants, retrofitted for your business needs, which outsourced TMS would not possess. Suppose you have not yet decided to automate your transport logistics or are ready to start the project but need additional arguments. In that case, we want to highlight the main advantages of the TMS software system, which distinguish it from the accounting systems of the ERP class or GPS monitoring systems. TMS software system offers:
Effective management of employees.
Supply chain management (SCM).
Enhanced supply chain visibility.
Support of inventory management.
Real-time cargo tracking.
Facilitation of timely cold chain management.
Help with shipment process tracking.
The ability to cope with the task with fewer machines.
The reduced influence of the human factor.
Speeded up laying of optimal routes.
Control of fuel consumption and traffic.
Synchronization with any accounting system.
The possibility of installing sensors.
Easy adaptation to individual requests.
Traceability of cargo location and redirection of routes through intermediate warehouses-hubs or distribution centers.
It is already 2023, and modern information technologies in logistics have come even closer to using artificial intelligence, Big Data, and Blockchain. Unlike other software solutions, TMS has developed the most in this aspect. For example, the accuracy of forecasting the concentration of order management for water suppliers is at least 89% (in some projects, up to 97%). And the data collected over several years allows us to predict the economic effect for almost any scenario related to a change in the market situation for transport logistics.
If you are considering a custom TMS adoption, let us know about your next project!