Leveraging an IoT Monitoring System for Your Company
With the surge in energy prices, the rise of inflation, and the COVID-19 recovery, businesses seek resilient strategies to conduct their operations efficiently. Taking care of supply chains, minimizing production costs, and ensuring customer satisfaction might be a tough juggle. Yet, technology arms businesses with new tools that help them respond to the challenges and rise above them. IoT monitoring is one of those solutions.  
The industrial IoT market is expected to grow to 1.11 trillion U.S. dollars by 2028, and there are solid reasons for that. IoT monitoring is the newest and most effective way of managing your business's operational efficiency. It gives you the ability to monitor your assets in real time and get insights into their performance, which enables you to make informed decisions that impact your bottom line.
And here is our deep dive into how you can leverage IoT monitoring systems to improve your business's operational efficiency.
---
What Is an IoT Monitoring System?
IoT monitoring is a process of identifying, locating, evaluating, and managing connected devices. Regardless of the system size, it provides actionable insights into the operations and points at the vulnerabilities. Whether you deal with fleet management or manufacturing, IoT will guarantee a high level of connectivity and visibility of all your assets.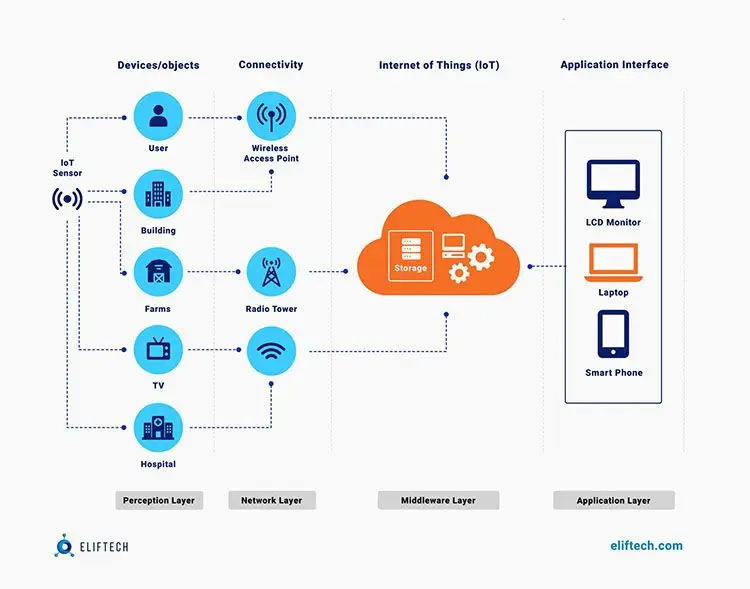 While some industries considered digitalization irrelevant or sometimes impossible, IoT proved there is a way to create a digital twin for any organization. A manufacturing company, logistics center, pharmacy, or even an e-commerce company can instantly deploy this technological solution and benefit from it.
How Can Your Company Benefit from Implementing an IoT Monitoring System?
Maintenance of commercial buildings, inventory management, fuel consumption control, and more critical tasks for businesses can be enhanced by IoT monitoring systems. The benefits of IoT solutions are limitless, and their influence is far-reaching and empowering.
Here are some key ones:
Better Resource Management
Real-time analytics received from connected devices gives you a peek and a full-scale examination of your operations. You can establish visibility of your assets and see how they perform. As a result, the quality of the product improves, the expenses are transparent, and no penny is going down the drain unnoticed. Some costs can be cut without damaging the overall processes, but you will never find that out without taking a closer look at what drives profit.
Extensive Opportunities for Big Data
The daily routine processes that happen even at the minor organization generate an intense data set. An agricultural company that does not monitor water usage can find itself in a budget overrun amid a hot summer, unlike one that implements IoT monitoring tools translated into connected farming for soil moisture or leaks in the irrigation system. Big data means ample opportunities for those who manage to harness it.
Strengthened Safety and Security
With robotics, automation, and sensors, there is no need for personnel to perform hazardous tasks. The Internet of Things security protocols are gaining more strength and automation tools are becoming more, and more affordable. With that comes a reduction in operational costs and increased workplace safety.
Top-Notch Customer Service
One thing never changes; it is a battle for customers' attention. Brands strive to have a positive image, bring only positive experiences, and leave unforgettable impressions. Remote IoT monitoring unleashes insights that help businesses personalize customer service. By analyzing behaviors and preferences, the products and services can be accurately tuned with the existing demand.
The world is connected like never before, and it's high time to acquire your IoT monitoring solution. Let us know about your next project.
IoT Monitoring in Action: Best Practices
Maximizing the benefits while minimizing risks is key to using any technological solution. So far, the Internet of Things-based solutions have effectively reduced operational costs, optimized performance, and made the workspace safer. Here are some examples of how these results can be achieved.
Leveraging IoT Monitoring for Asset Management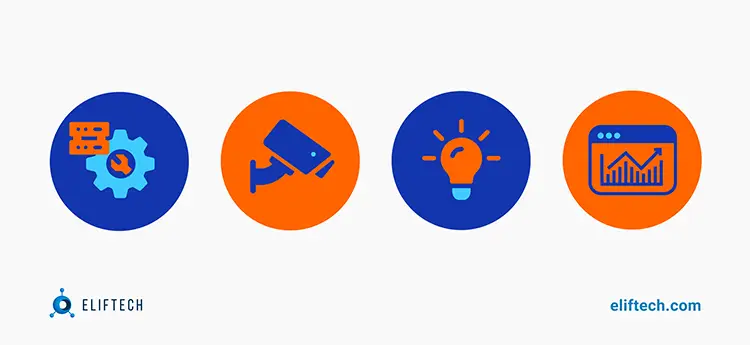 IoT device monitoring applies across most industries, from small e-commerce companies to large logistics hubs or retail distribution centers. Here are some examples of assets that businesses can effortlessly track with connected devices and sensors:
Manufacturing: inventory, equipment, machinery, vehicles, and environmental conditions.
Healthcare: medical equipment, supplies, patients.
Agriculture: crops, soil conditions, water, and fertilizer usage.
Logistics: vehicles, drivers, goods, shipments, fuel consumption, maintenance schedules.
Introducing a system of connected devices into your operations, regardless of the industry, brings you data, analytics, and more opportunities that you can leverage in any way convenient. Here are some practical examples:
Predictive Maintenance
Assets have value when used, and it decreases if they are abandoned. Let's say you have an inventory that needs constant maintenance, and the schedule is kept on a spreadsheet. Manual records and human error potential pose a risk to accuracy and often become a waste of time and resources.
Instead, the IoT system enables you to perform timely work on fixing and replacing things without overrunning the budget. In other words, you can detect minor issues before they become major by establishing a predictive maintenance routine.
Read more: Industrial IoT Predictive Maintenance
Remote Access
Let's say you have a warehouse with goods that need special conditions like moisture, temperature, or lighting. These factors influence the state of goods, and it's crucial to be on top of things when it comes to their preservation. Some opt for hiring more workers to watch the metrics.
However, the cost of that decision is much higher than what technology has to offer. Installing IoT remote monitoring can ease the burden on staff and serve as a preventive measure for any breakdowns. In addition, the devices will provide energy consumption data and help you plan utility expenses.
Energy Optimization
Another aspect is real-time data transmission. It is common practice in hotels to place a system that tracks the presence of people in the room and turns the light on and off when needed. Such a minor manipulation becomes a considerable game-changer when it comes to saving money on energy.
Installation of smart thermostats, building automation systems, or lighting controls enables you to cut costs on energy dramatically. The study conducted in the USA showed that an intelligent thermostat reduces energy costs by 10 to 30%.
Automated Reporting and Analytics
With the help of connectivity that the Internet of Things guarantees, you acquire a stable flow of data from your operations. That information can be leveraged in multiple ways. For example, with the help of an IoT monitoring dashboard, you get KPIs alerts. All the data becomes visualized and can be shared across relevant departments as an actionable insight.
Read more: IoT Data Management and Analytics for Manufacturers
Strengthening Security from Every Angle with IoT Monitoring
The security risks increase as the business gains more valuable assets. It is vital to take measures to prevent minor accidents and have a robust response plan in case something happens. As the market of connected devices grows and evolves, more investments flow into strengthening its security. Here are a few stats:
PSACertified Security Report 2022 concluded that 90% of companies that implemented IoT witnessed fewer security-related incidents with the help of security measures.
Gartner research forecasts that device manufacturers will embed at least one security feature into their devices by 2023.
The global tendencies show that there is always room for improvement when it comes to protection. What about the day-to-day operations of the business and the benefits of the IoT monitoring platform? Here are a few examples:
Physical security. IoT devices are used to monitor entrances to the building, like doors, windows, and gates. If the area is large, it takes a lot of personnel to control it 24/7. Hence, the devices can be used to reduce the number of guards on the perimeter. Instead, the alerts will be sent in case a breach happens.
Video-surveillance. It's impossible to imagine a parking lot without cameras in modern times. In addition to a real-time overview of the facility, the cameras serve as protection for personnel detecting threats of different natures.
Fire safety. Smoke detectors, heat, and gas sensors are preventive measures against accidents in the facility protecting the property and people. Moreover, such sensors are placed on fire extinguishers to ensure their maintenance and serviceability.
Cybersecurity. Data often becomes a target for cyber attacks. Hence, it's essential to think of measures required for your type of business. IoT solutions offer data encryption, vulnerability scanning, access control, and even integration with existing cybersecurity systems.
Conducting Big Data Analysis with IoT Monitoring
Using big data to your advantage and gaining the desired actionable insights becomes possible if you have the right set of tools. A remote monitoring IoT platform can become your source of data and the mechanism for harnessing it.
Let's say you have a hospital patient with a wearable device that collects metrics like heart rate, sleep patterns, blood, and sugar levels, etc. The period of data gathering can vary, as well as the metrics. So, you end up with a lot of stats that need to be visible to multiple specialists. You can also have a tracker for personnel of the hospital, patient flow, and room conditions monitoring.
All that data represents the functioning of your facility. The data is there. What happens next? You need to channel the data in the right direction and make sure that the relevant specialist gets it and can make decisions based on it. Monitoring IoT devices allows you to streamline that process and make it happen in real time. So, the data is transmitted, and the person responsible sees it.
Maximizing Business Efficiency with IoT Monitoring
Maximizing business efficiency is not about finding more customers and signing more contracts. It is about reducing and making the cost of production reasonable, affordable, and sustainable. By streamlining the operations and correctly identifying vulnerabilities, more time and resources are left for innovation and creativity.
IoT technology is a game changer for modern businesses. IoT technology aims to solve most of the aches and pains that routine tasks bring along, eliminate common mistakes, and build a robust architecture for businesses to blossom.
It helps them automate and streamline their processes, enabling them to focus on what really matters: innovation and creativity. It makes operations more efficient and removes human error from the equation by providing real-time data.
Navigating Security and Privacy in IoT Monitoring Solutions
The number of IoT devices worldwide will reach as much as 75 billion by 2025, leaving no chances to postpone the security talk. Let's look at some primary considerations for IoT solutions:‌
‌
Data encryption. The transmission of data should be protected from interceptions and unauthorized access. So, if you are dealing with sensitive data and need advanced measures to protect it, start with data encryption.
Access controls. There are multiple ways in which you can sort out access to your data based on its sensitivity and the user role. You can introduce role-based access depending on the job title or responsibilities of the employee, make authentication obligatory, etc. The key to all security protocols is timely checks and upgrading.
Device authentication helps prevent connection to your network of unauthorized devices.
Vulnerability scanning depends on the needs of the business. It's recommended to have a comprehensive scanning of IoT devices, cloud, gateways, and the whole infrastructure regularly. From time to time, businesses request third-party companies with broader expertise to check for additional security threats.
Incident response. Along with regular checks for vulnerabilities, a plan of response to potential threats should be put in place. A typical layout of the plan includes the definition of a security breach, response team roles, and classification of incidents.
Connecting the Dots: Select the Right IoT Monitoring Solution for Your Needs
One challenge many companies face when it comes to IoT monitoring is finding a solution that works for their business needs. With hundreds of vendors offering different types of IoT monitoring software platforms — and no clear indication about which one is best for your needs — selecting the right solution can be difficult.
So that the best way to ensure that your IoT monitoring solution will meet your needs is to choose a custom-built system, rather than a pre-made one. With customizable solutions, you can build in the features and functions that are most crucial for your business.
Compatibility
Among the advantages of remote IoT monitoring is a high compatibility level. However, the elements of the system need to be selected according to the existing infrastructure and the functions you want to be performed.
With a custom-built solution, you can also ensure that the system is designed to fit seamlessly with your existing IT infrastructure, which will allow you to integrate it into your business processes. You'll have more control over how your data is stored and accessed, which means you won't have to worry about security breaches or other issues.
Performance
You can be sure that you will get precisely what you need because with custom-built systems there is no limit to how many features or capabilities they can include. This makes it easier for them to tailor their system to your specific needs and requirements—and much less likely that gaps in functionality would remain unfilled.
Scalability
If you plan to scale up and introduce more assets and tracking devices, your solution should be able to accommodate that growth. A custom-built system will be able to grow with you and your company. This means that it will be scalable, so you can add new capabilities and features as needed without redesigning the entire system.
If you need custom IoT software, you are in the right place. We build flexible and scalable IoT solutions that meet your needs today and help to grow in the future. Contact the ElifTech team to find out more about our custom IoT solutions and how we can help you bring your IoT ideas to life.
IoT Monitoring Evolution: Looking into the Advancements of the Future
As technology continues to evolve and become more advanced, it's essential for businesses to stay on top of the latest trends so they can be competitive in today's marketplace. With IoT, businesses can gain valuable insight into their day-to-day operations and make informed decisions based on real-time data.
Using the power of IoT, businesses can monitor their operations, optimize their workflow and manage costs. It reaches all aspects of operations and opens a new level of efficiency. Hence, future improvements will benefit businesses and their customers even more. While the potential is enormous, let's look at some exciting advancements that we can expect in the nearest time:
Advanced IoT Sensors and Devices
While sensors became a breakthrough and established a new level of connectivity, the issue of energy consumption got into the spotlight. In the following step, manufacturers will make the monitoring IoT devices smaller and more energy-efficient.

In ElifTech's recent project, we developed an IoT solution for industrial equipment management. The target users, equipment owners, and operators needed a dashboard that would be easily accessible via smartphone, PC, or tablet. As a result, the solution enables mobility, remote access to critical data, and timely notifications.
The Power of AI
AI is a powerful tool that will make sensors more intelligent and autonomous. When combined with robotics, IoT sensors can perform multiple tasks without human interference, making work safe and quick. Besides, the real-time analytics will be enhanced with the predictive ones. It will drive faster decision-making and open up new directions for business expansion.
Upgraded Connectivity
IoT revolves around the concept of connectivity, and with more technological advancements, a need for improvement arises. 5G and LPWAN promise to establish more secure and fast data transmission for IoT devices.
The future of the Internet of Things technology is exciting. It will bring new ways to impress customers, optimize operations, improve efficiency, and fight the economic and ecological challenges ahead. The ElifTech team will eagerly step into the future with you and discover the potential of your business.
Final Thoughts
IoT technology has the power to turn a business from good to great. It is not just about making products more efficient and reliable; it also helps increase profits by eliminating unnecessary parts of the supply chain, streamlining operations, and reducing costs.
FAQ
IoT tracking and monitoring systems provide businesses with tools to collect and analyze valuable data, turn it into actionable insights, and use it for data-driven decision-making. It reduces operation costs, drives innovation, and increases a company's competitive advantage.