Outsource CTO: What to Consider?
Every project starts with an idea. Startups often come to us with their exciting ideas and significant potential. However, we've noticed they often struggle with balancing innovation, cost-effectiveness, and technical know-how. This is a typical situation where CTOs strive to find a perfect balance by offering a more reasonable practical solution, similar to how Steve Wozniak contributed to Steve Jobs on the technical side.
However, not all startups see the need for this early on, especially when considering full-time hires. That's a situation where demand has led to a more attractive option: to outsource CTO. Instead of having a full-time CTO on board, startups can find a tech expert from anywhere in the world, within your budget, and with the right experience for your project.
That's precisely why this guide will prove valuable to you, as it will navigate you through the nuances of this service model. It will explain the benefits, how to choose the right CTO, the costs involved, and future trends of outsourced CTO services.
What is CTO as a Service?
Outsourced CTO services is a way for companies, or smaller businesses, to access the expertise and guidance of a Chief Technology Officer (CTO) on a temporary or as-needed basis rather than hiring a full-time, in-house CTO.
A CTO is a tech expert who guides a company in making vital technology decisions. They play a crucial role in shaping the company's tech vision, selecting the right tools, and ensuring that the tech side of the business matches its goals.
By using CTO as a Service, a company can bring in a CTO for a particular project, especially during critical development phases or for ongoing consultation. This setup is flexible and cost-effective, which is particularly appealing for startups and businesses working within budget constraints.
Trends in Outsourced CTO Services
As companies depend more on technology, the trend to outsource CTO has grown in significance within the executive team. In many companies, the CTO now leads the overall technical strategy, ensuring that products and services stay innovative and competitive.

Looking ahead to the next decade, we can expect the CTO's role to keep changing. Here are some of the important trends and opportunities we foresee for 2024:

(Predictions primarily made based on our experience and expertise)
Hybrid cloud adoption. As we all know, COVID-19 has made many organizations adopt a mix of in-office and remote work. So, tech leaders need to rethink what's important and how to balance things like growth, speed, privacy, safety, and business success. The future will likely involve this mix of approaches - like handling cloud systems, flexible work setups, and better ways to engage with customers. The hybrid cloud method is expected to be the best choice in the near future.
Focus on customer experience. As companies focus on satisfying customers, the CTO will play a bigger role in ensuring customer-friendly products. They'll help create new customer tech and work with sales, marketing, and customer service teams to use tech for better customer interaction.
Steady focus on AI and ML. Deloitte experts reconfirm the significance of AI and ML adoption (By 2025, AI and ML are expected to create business value of about US$4.4 trillion, while the MLOps market is predicted to reach around US$4 billion.). So, with AI and ML still on the rise, the outsource CTO will need to lead the way in using these technologies in the company's products and services. The CTO is also responsible for ensuring proper management and protection of the company's data in light of these technologies.
Need for speed. To keep up with the competition, companies will need to move quickly. When you outsource tech support, the CTO can support this need for speed, using agile methods and fast tech development.
Sustainable technology. In today's world, where people are worried about climate change and how they shop, being sustainable is a big tech trend for 2024. As we use more technology, it is important to ensure it doesn't harm the environment in the long run. For software companies, being sustainable saves money. And because shoppers want eco-friendly options, tech companies offering these products automatically stand out in the market.
Benefits and Reasons for Outsourced CTO Services
For startups, having the right technical expertise and leadership can be the deciding factor between success and challenges. CTO service not only offers this expertise but also comes with a host of other significant benefits.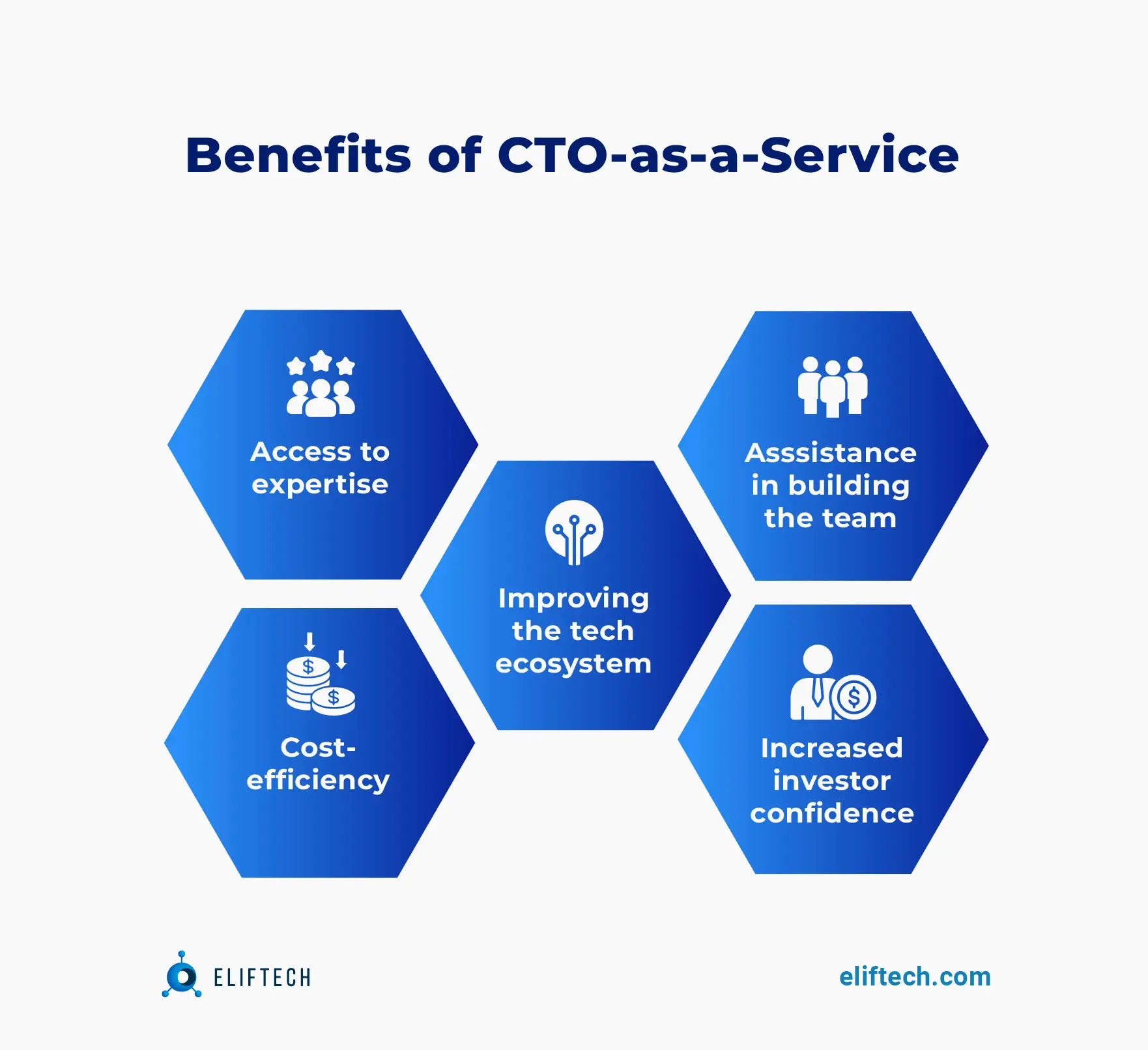 Cost-Effective Solution
Startups are known for operating under tight budgets, and every expenditure is carefully considered. CTO as a Service presents a cost-effective solution. It provides access to high-level tech leadership without the financial burden of full-time obligations. This helps startups with limited resources use their money wisely. They can then focus on important areas of their business, such as product development, marketing, and growth.
Access to Tech Expertise
Hiring specialized specialists is an excellent solution if you have a short-term tech problem, face a tech challenge, or want to work long-term with remote tech experts. So, whether it's a quick fix or long-term collaboration, these specialists bring essential knowledge and experience to the table to help you meet different tech needs.
Technology Ecosystem Improvements
The expertise of a CTO as a Service goes beyond basic problem-solving. They actively enhance a startup's technology ecosystem by introducing the latest tools, methodologies, and best practices. This ensures that the company's tech foundation is adaptable, scalable, and aligned with industry trends.
Building Your Product Team
With outsourced CTO services, you can gain invaluable support in building a dynamic and results-driven product team. CTO experts conduct interviews to select the right talent, review code for quality, facilitate seamless onboarding, and ensure agile methodologies are well-implemented. This comprehensive support boosts your team's motivation and focus, leading to efficient project development and excellent results.
Read more to learn more about why startups need a technology delivery manager and how to choose the right one.
Increased Investor Confidence
Bringing in a seasoned CTO, even for a short-term role, sends a strong message to investors. It demonstrates that the startup is committed to its tech strategy and knows how to navigate tech challenges effectively. This, in turn, boosts investors' trust in the company's ability to deliver on its technology promises. It also makes the startup more attractive for potential investors and partners who see a solid tech foundation and strategy in place.
When Do Startups Need to Outsource CTO as a Service?
The journey of a startup is marked by different phases, each with its unique challenges and needs. This naturally leads to a question: at what point should startups consider getting the help of a CTO as a Service? There are three specific cases.
Idea Stage
In the initial idea stage, when your team lacks a technical co-founder, a CTO plays a crucial role. They help shape your product's technology foundation, including defining the technology stack for MVP development for startups. Additionally, they help in building the initial product development team, setting the stage for your digital product's development journey.
Angel Funding Stage
When you get angel funding, you might not need a CTO on your main team. Instead, you can bring in a Remote CTO. They do two important things: contribute to product development and establish effective Agile practices within your team.
If you outsource technical support, it can help you improve your business's software development lifecycle as well. At this time, it's a good idea to manage your time efficiently. While your project is in progress, you can start looking for a full-time CTO to join your team and make it even stronger.
Seed Funding Stage
By the time you reach the seed funding stage, your product might already be in place, possibly with a small customer base. At this point, the CTO helps in fine-tuning your product, ensuring it meets evolving needs and industry standards. Once you find a suitable full-time, in-house CTO, they'll facilitate a seamless transition of responsibilities, ensuring the continued growth and development of your platform.
How to Choose the Right CTO as a Service in 3 Steps
When it comes to CTO as a Service for startups, it's vital to make your budget work for you while reducing potential cost overruns and risks. Here are 3 key steps to help you find the right provider.
Step 1. Look for referrals or scan online platforms
Choosing the right CTO from a CTO as a Service company or a software development outsourcing company often begins with an extensive search and evaluation process. You can start by searching on online platforms, which provide reviews and ratings for various service providers, including technology and development companies. Alternatively, you can explore dedicated professional platforms to identify the ideal fit for your requirements. Take the time to read client reviews and check ratings to identify companies with a strong reputation. Some noteworthy websites in this regard include:
LinkedIn - is a widely recognized professional networking platform where you can identify ideal candidates working as a CTO as a Service. Businesses seeking to engage CTOs as a Service can leverage LinkedIn to search for and connect with potential candidates, considering their expertise, experience, and location.
Clutch -  is a B2B platform that connects businesses with service providers. It allows you to evaluate companies based on factors such as industry expertise, work quality, and customer satisfaction. On Clutch, you can review a company's ratings in terms of cost, quality, and timeliness, read honest customer reviews, and gain insight into the company's specialization and strengths.
CTO-as-a-Service companies. If you prefer not to invest your time in searching for the right candidate, there are specialized CTO outsourcing companies that can be a convenient choice. When searching for companies, it's important to focus on those that specialize in providing CTO services. Evaluate their expertise, specialization, and industry relevance. A reputable CTO as a Service provider should have a team of experienced CTOs with a proven track record. Consider their portfolio and assess whether they've worked with businesses similar to yours. Successful past projects are indicative of competence. Request client references to speak with past or current clients and gauge their satisfaction and reliability.
Outsourcing software development companies. For software development outsourcing companies, the evaluation process should revolve around their technical expertise and development processes. Ensure they have a team of skilled developers and technical professionals. Inquire about their experience with relevant technologies and tools. Review their project portfolio to see the range and quality of projects they've undertaken, particularly those that align with your project needs. Client references can provide valuable insights into their performance, reliability, and ability to meet deadlines.
Step 2. How to understand that a candidate is a perfect match?
After narrowing down your search to the final 2-4 job candidates, the next step is to conduct a comprehensive interview process. During the interview, check the following:
Past experience - Pay great attention to the candidate's previous experience. Review their work history to understand their experience's depth and ability to demonstrate the skills they have gained from past projects effectively.
Tech stack - Conduct a detailed assessment of a candidate's proficiency in specific technologies and tools that are critical to the CTO position. This entails a comprehensive review of their experience with key tools such as Jira, GitHub, Cloud platforms, Google Analytics, Jenkins, etc., to ensure they are ready for the job.
Motivations - It is imperative that the candidate's motivation aligns with your company's goals and vision. Strive to understand how their values ​​and aspirations align with the mission of your project.
Teamwork and communication - For a CTO specialist, it's vital that they can collaborate well. They need to work effectively with the team, project stakeholders, and other departments to make everything run smoothly and efficiently.
Hard and soft skills -  Test their technical competencies (hard skills) and interpersonal skills (soft skills), which are critical to effective teamwork and project management.
Step 3. Create a smooth communication flow
Unlike an in-house CTO, your outsourced CTO will likely work with you remotely. However, you can easily overcome the challenges of remote collaboration by setting up effective communication. Regular communication ensures that any issues or concerns are addressed promptly and everyone stays focused.
As a remote development team experienced in working with clients throughout Europe and worldwide, we've discovered that these tools are the most practical and easy to use:
Communication tools like Slack, Mattermost, Skype, Google Meets, and Microsoft Teams.
Web and video conferencing tools such as Google Meet, Zoom, and Skype.
Project and task management tools like Trello, Jira, ClickUp, and Asana.
Design tools, including Figma, Moqups, and InVision.
Developer tools such as GitHub and Bitbucket.
File management systems like Google Drive and OneDrive.
CTO as a Service Cost
CTO as a Service, a strategic choice many startups turn to, holds the promise of cost-efficiency and flexibility. But how exactly is the cost of CTO as a Service determined? The price typically hinges on a company's unique tech needs and the frequency at which CTO services are engaged.
CTO as a service can be helpful for critical strategic advice, which may lead to a lower cost compared to larger enterprises that routinely use CTO consulting services. Likewise, the cost can differ when comparing CTO advisory services to fractional CTO services, as the scope and deliverables for these services are not the same.
Additionally, the service provider's expertise level plays a significant role in determining the cost. In this way, companies can access advanced technical leadership without the financial commitment of a full-time position, making it a cost-effective choice.
The cost can fluctuate greatly depending on specific needs and the arrangement of services. Nevertheless, it's apparent that CTO as a Service often comes out as a favorable route, offering the requisite tech expertise without bearing the significant payroll cost of a full-time CTO.
Full-time CTO vs. CTO as a Service: Why is the cost different?
A full-time CTO usually needs a fixed salary and other work-related costs. The salary can change a lot depending on where you are, the kind of business, and how big it is. In the United States, a CTO's average salary is about $150,000 to $250,000 per year.
On the other hand, CTO as a Service is more flexible and costs less. With CTO as a Service for startups, you can get a CTO when you need them, for a specific time, or part-time. This way, you get their expertise without paying for a full-time executive.
Costs of outsourced CTO services can be different based on things like how much work they do and how they charge. Some may have a monthly fee, others may charge by the hour or for each project. The cost can be anywhere from $3,000 to $10,000 per month, depending on how complicated your needs are and the level of support required.
Conclusion
The need for a strong technical leader in early-stage startups is obvious. While the CTO role involves more than just coding, including shaping development strategies and leading software development teams, the absence of this critical leadership can be keenly felt.
Embracing the outsource CTO strategy fills this void promptly, providing all the expertise required to establish your company's technical domain and steer development in the desired direction. They remain a key player in your organization until you find the perfect, permanent technical expert.
---
In any case, we have the right solution for you no matter your tech requirements, your startup's stage, or your budget size. Contact our team to find the perfect CTO solution for your business.
---