The Future of Cruise Payment Options: How Digital Wallets are Revolutionizing the Industry
Cruise ships adopted a cashless payment approach pretty fast, introducing cruise credit card. All this to avoid a massive money stick on board, currency exchange, and one million accounting headaches. But what happens now, and what kind of digital transition are we currently facing?
As technology continues to evolve, the cruise line industry is undergoing a digital transformation, including the introduction of digital wallets. Digital wallets provide well-structured and convenient cruise payment options ensuring a seamless transaction experience for passengers while capturing valuable data for the cruise companies.
From this article, you'll find out what kind of transformation digital wallets bring for cruise payment options, how they can be used to unlock marketing and financial benefits, and where to get this technology from.
---
Digitalization of Cruise Payment Options: The Impact on Cruise Industry
According to a 2022 Global Payments Report by McKinsey, digital wallets and other contactless payment options have gained momentum across the travel industry, partly driven by the COVID-19 pandemic. These apps allow guests to store and access their booking, payment information, loyalty program details, and cruise itinerary all in one place, making it easier to manage onboard expenses.
With touchless technology becoming increasingly important, digital wallets will be key in rebuilding consumer confidence and offering a safer, more seamless travel experience. Mobile payments and digital wallets are quickly becoming the norm, enhancing the guest experience and streamlining operations for cruise companies, - McKinsey.
As more passengers embrace technology, many of them are increasingly interested in using digital wallets for onboard purchases. In fact, 41% of cruise passengers would like to use a digital wallet to purchase items onboard, and 44% want to check in via a mobile app.
This table has examples of how digital wallet technology works in general and how it can be useful for your business.
Developing Customer Microsegments to Create a Personal Experience
Although microsegmentation - grouping consumers into small segments or specific individuals and targeting them with precise messaging based on behavioral patterns and needs - is not a new concept, it has not yet been widely implemented by the travel industry. Microsegments differ from monolithic customer segments in terms of the number of segments, the type of data leveraged, and how the resulting insights are used.  In general, microsegmentation can create value in three ways:
forecasting demand by powering predictive demand models;
stimulating demand and growing customer lifetime value by tailoring customer-experience interventions, from promotions to service delivery;
informing commercial strategy by providing novel insights for planning, product, and pricing decisions.
Use of Digital Wallets for Customer Microsegmentation
The implementation of digital wallets on cruise lines has the potential to drive microsegmentation in several ways. First, digital wallets enable cruise lines to collect and analyze more detailed data on their customers' spending behavior, preferences, and travel patterns. This data can be used to create microsegments of customers based on their spending patterns, preferences, buying behavior, and demographics.
Example: Firstly, a cruise line could create a microsegment of customers who prefer to spend more on shore excursions and less on onboard amenities. By understanding this microsegment's specific preferences and behaviors, the cruise line could tailor its marketing messages and promotions to target these customers better and increase their satisfaction.
Secondly, digital wallets can also facilitate the use of personalized pricing strategies. By analyzing a customer's spending behavior and preferences, cruise lines can offer personalized pricing and promotions tailored to each microsegment's specific needs and preferences. For instance, a cruise line may offer a discount to customers who frequently book shore excursions or offer a bundled package deal to customers who prefer to book all-inclusive packages.
Finally, digital wallets can also enable cruise lines to offer more seamless and convenient payment options, which can enhance the overall customer experience. By reducing the friction of payment, customers are more likely to make additional purchases and return for future cruises. This can lead to increased customer loyalty and retention, which can drive long-term growth.
Broader Customer Data Platforms
To unlock new insights, companies can use various statistics and data science techniques to enhance their booking-related data. Initially, most organizations may have limited data attributes to work with, but by connecting readily available data sets such as web page navigation and mobile app usage, they can gain more insights. To supercharge microsegment insights for multiple use cases, companies need a well-structured and cleansed "data cube" foundation that houses both internal and external data sets, including bookings, searches, clickstream activity, mobile app usage, loyalty, customer service, operations, and feedback data.
Use of Digital Wallets for Data-Driven Insights
Digital wallets can capture transactional data related to onboard purchases, dining options, shore excursions, and other activities. This data can then be integrated into the data cube foundation, enabling cruise lines to understand better each customer's spending habits, preferences, and overall behavior.
Example: By combining booking-related data with transactional data from digital wallets, cruise lines can create more refined microsegments and tailor messaging based on specific customer preferences. For example, if a customer frequently purchases spa services and luxury items on board, the cruise line can use this data to target them with personalized offers and promotions related to these products and services.
Additionally, digital wallets can also provide cruise lines with insights into customer satisfaction levels based on their onboard spending patterns. For example, if a customer frequently purchases alcoholic beverages and spends little on other amenities, it may indicate a desire for a more vibrant nightlife atmosphere. These insights can help cruise lines make data-driven decisions about onboard offerings and promotions, ultimately leading to increased customer satisfaction and loyalty.
Adding Leading Sources of Insight to Forecast Customer Demand
Now, in the era of rapid digitalization, it has become more crucial than ever for the travel industry to understand travelers and their rapidly changing sentiments deeply.
As Marriott's Sorenson highlighted, capturing growing demand will be a top priority for travel executives in the coming years.
To keep track of travel demand, it is important to track search and booking volumes at the microsegment level and look for leading indicators that can help pinpoint recovery. While consumer sentiment is helpful in guiding hypotheses, it is essential to rely on additional data sources to understand and anticipate traveler behavior accurately.
Use of Digital Wallets to Forecast Demand
The implementation of digital wallets on cruise lines can play a crucial role in forecasting demand. By utilizing digital wallets, cruise lines can gather transactional data, such as payment and purchase history, which can provide insights into customers' spending patterns and preferences. This data can be used to create predictive models and forecast future demand for specific cruise offerings and experiences.
Furthermore, digital wallets can also enable cruise lines to offer personalized promotions and incentives to customers based on their spending behavior, which can help stimulate demand and drive bookings. By leveraging these insights, cruise lines can optimize their pricing and marketing strategies to attract and retain customers, ultimately leading to increased revenue and profitability.
Tailoring Customer-Experience Interventions
The first step towards capturing demand effectively is to create promotional offers that resonate with customers more than ever before, and every aspect of the booking and traveling experience should feel genuine and relevant. To achieve this, cruise companies should rely on surveys and include behavioral insights from design research. These predictive insights, coupled with a comprehensive view of the customer, can drive customer satisfaction, conversion, and lifetime value at every step of the journey.
By leveraging insights from customer microsegments, cruise companies can design interventions throughout the customer journey to address pain points while generating a quick return on investment (ROI).
A McKinsey survey found that good CX can lead to a 20 percent improvement in experience satisfaction, a 20 percent lower cost to serve, a 15 percent increase in revenue through retention and acquisition, and a 30 percent increase in employee engagement.
Example: Airline Industry
A major airline in the US has recently developed a CX (customer experience) engine that uses advanced data and analytics to enable near-real-time decision-making focused on return on investment (ROI) for CX strategy and management. This engine creates a 3-D customer view and adds a fourth dimension of predictive insight. The approach involves three steps:
A successful data-and-analytics transformation to establish a data-cube foundation;
A predictive scoring system that utilizes multiple machine-learning techniques to determine important data revenue outcomes for all customers;
Operationalizing the system for action.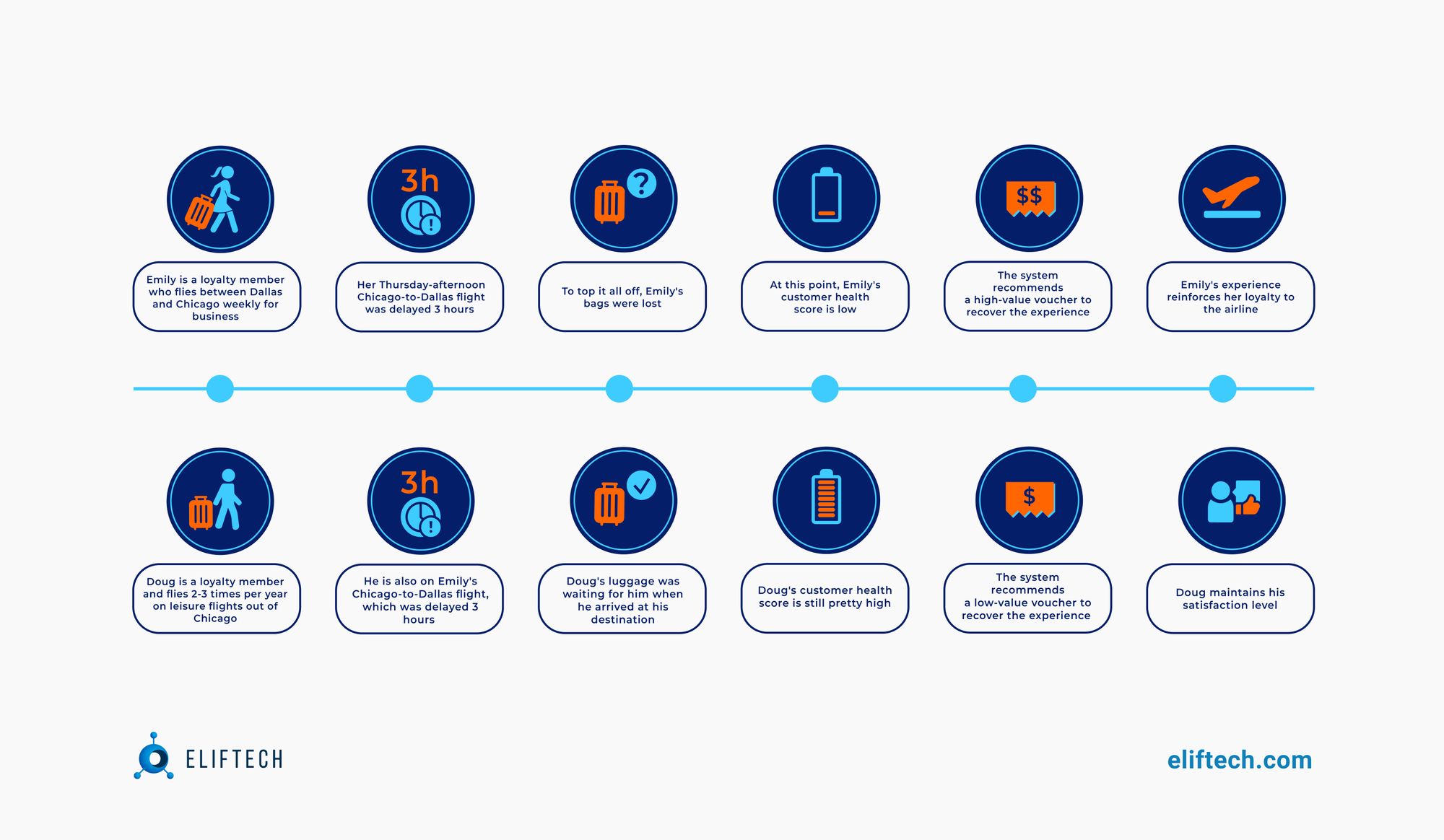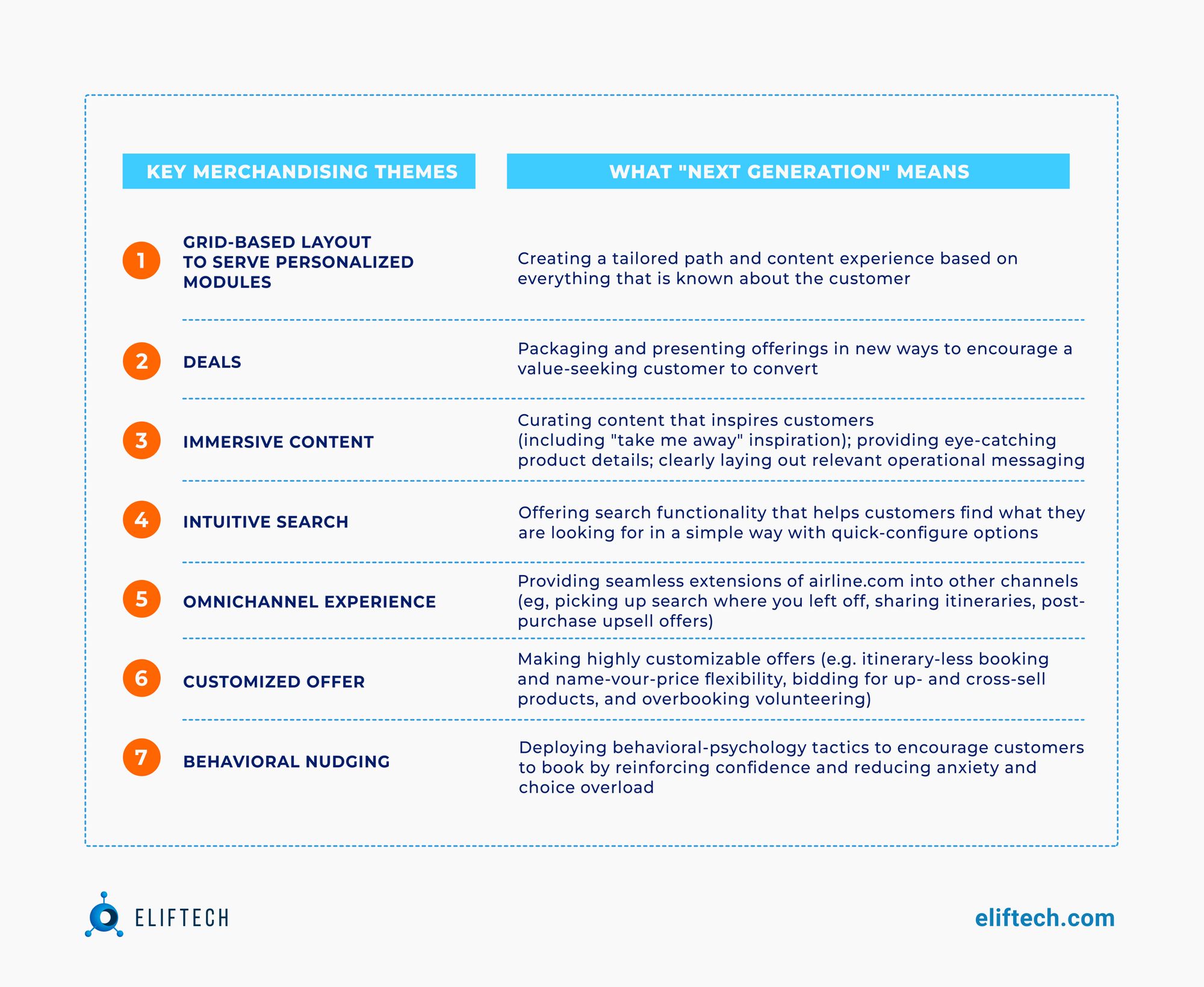 Digital Wallets for Customer-Experience Interventions
Implementing digital wallets can provide a valuable data source that can be used to improve CX. Companies can gather rich customer behavior and preferences data by connecting digital wallets with other data sets like web page navigation and mobile app usage. This data can then be fed into machine learning algorithms to identify patterns and insights that can be used to develop microsegments and empower personalization.
Automation of Operational Processes
Due to the COVID-19 pandemic, many players in the travel industry had to make difficult decisions, such as reducing headcount and transitioning fixed costs to variable costs. In the future, travel is expected to remain a margin play, so it is crucial for organizations to stay nimble.
One way to achieve this is by making automation a strategic priority. By rethinking processes that previously required physical touchpoints or documents, cruise companies can support contactless servicing capabilities and eliminate at least 30 percent of error-prone, low-value manual interventions from day-to-day processes through automation and digitization.
The use of automation is on the rise, with a McKinsey survey showing that two-thirds of organizations are piloting the automation of business processes in one or more business units or functions. This is compared to 57 percent two years ago.
The survey includes insights relevant to travel companies, particularly smaller ones. Smaller companies are less likely to have automated their processes, but interestingly, those that have done so are seeing a higher success rate than larger organizations. Sixty-five percent of respondents at smaller companies report success with automation compared to 55 percent at larger organizations.
Use of Digital Wallets for Automation of Operational Processes
Digital wallets can help improve automation in several ways.
First, they eliminate the need for physical payment methods, such as wearables or other devices, and allow for seamless, contactless transactions. This reduces the need for manual intervention in payment processes and can increase the speed and efficiency of transactions.
Second, digital wallets can integrate with other digital systems, such as loyalty programs or customer relationship management software, to automate the tracking and management of customer data and rewards. This can reduce the need for manual data entry and analysis, allowing for more accurate and timely insights into customer behavior and preferences.
Third, digital wallets can enable automatic payment processing and reminders, reducing the need for manual follow-up and ensuring timely payments. This can also reduce errors and delays in payment processing.
Enabling Voice Payments
Digital wallets can be implemented for voice payments on cruise ships, allowing passengers to make purchases and payments through voice commands. This technology offers a convenient and seamless payment experience, as passengers can simply express their purchase requests and authorize payments through their digital wallets.
Voice-enabled payments can also reduce physical touchpoints and promote contactless transactions, which can be particularly beneficial in the context of public health concerns. Also, smart voice payments are the next step towards inclusivity, enabling people with visual and motor impairments to make transactions easily. While there are still security concerns, major tech companies like Amazon, Google, and Apple have already implemented smart voice wallets.
Introduction and Use of Cryptocurrencies
Despite market fluctuations, the number of people using cryptocurrency wallets has increased in recent years. A digital wallet can be a convenient way for cruise passengers to use cryptocurrencies during their trips. By storing their cryptocurrency in a digital wallet, passengers can easily make purchases onboard the ship without exchanging their currency and transferring it on a card.
Furthermore, a digital wallet can offer passengers a more streamlined and efficient payment process, as transactions can be processed quickly without intermediaries. This can help reduce waiting times and improve the overall customer experience onboard the cruise ship.
Using a digital wallet for crypto payments on cruise ships can also offer higher security, as blockchain technology can secure transactions. This can help prevent fraud and unauthorized access to passengers' funds.
Benefits of Implementation of Digital Wallets as Part of Cruise Payment Options
As the cruise industry continues to modernize and adapt to the evolving needs of its customers, embracing digital wallets has become increasingly important. These innovative payment solutions enhance passengers' overall experience and provide cruise companies with numerous benefits.
Digital wallets for cruises can be a game-changer for both crew and the cruise company itself for several reasons:
Improved convenience and speed for passengers
One of the most significant benefits of digital wallets is the convenience they offer to passengers. With digital wallets, guests can make payments instantly and securely, eliminating the need to carry cash or cards. This ease of use can greatly enhance the overall cruise experience, as passengers can focus on enjoying their trip rather than worrying about managing physical payments.
Besides, each member of the family can get their own digital wallet, which can be customized to limit spending. Parents can have unlimited credit, while kids can have pre-paid plans with a certain level of spending limitation. Additionally, all of those wallets can be reimbursed from a single bank account. This functionality allows for more personalized spending and helps passengers stay within their budget.
Increased operational efficiency
Digital wallets can streamline the payment process for onboard transactions, such as dining, shopping, and booking excursions, reducing the crew's workload. By automating these transactions, cruise companies can reduce the need for manual payment processing and reduce the time and effort required for handling and reconciling payments, saving time and resources. This increased efficiency can lead to cost savings and improved productivity for the cruise line.
Reduced costs
Using digital wallets, cruise companies can significantly reduce the costs associated with cash handling and processing credit card payments.
According to a report by McKinsey, digital wallets can help reduce cash handling costs by up to 80% while also reducing the risk of fraud and data breaches.
Increased revenue
Digital wallets can also help cruise companies increase revenue by offering personalized promotions and targeted marketing campaigns. By analyzing guest spending habits and preferences, cruise companies can offer more relevant and attractive offers leading to increased onboard spending.
Enhanced security and fraud prevention
Security is a top priority for cruise companies, and digital wallets offer robust protection against fraud and unauthorized transactions. By utilizing advanced encryption technologies and tokenization, digital wallets can safeguard sensitive customer data and ensure secure payments. This added layer of security can help build trust with passengers and protect the cruise company's reputation.
Data collection and real-time analytics
Cruise companies can gain valuable insights into customer spending habits and preferences by implementing digital wallets. This data can be used to personalize marketing campaigns, develop targeted promotions, and optimize onboard offerings to cater to the needs of the passengers. By leveraging these insights, cruise lines can increase onboard spending, creating a more enjoyable and tailored experience for their guests.
As each passenger purchases goods or services, real-time data is immediately available to analyze their behavior and create their payment portrait. Based on this data, cruise companies can offer discounts, coupons, add-ons, and complimentary services for customers on a cruise trip that benefit them immediately. This leads to better customer satisfaction, loyalty, and retention.
Partnering with ElifTech for Digital Wallet Development
At ElifTech, we prioritize fintech solutions and have advanced expertise in developing digital wallet applications. Our team of experts can help you design and develop a custom digital wallet system that fits the specific needs of your cruise line company.
Our dedicated development team specializes in the following:
End-to-end digital wallet software development services intended to scale, enhance customer experience and increase sales.
Integrating smart voice payments, blockchain wallets, and other emerging trends in digital payments. Our focus on security and innovation ensures that your digital wallet system is not only efficient but also secure;
Implementation of automated systems, machine learning, and real-time analytics in the digital wallet app.
If you feel like your business needs to scale with a digital wallet solution, get in touch with us, and we'll consult you on all possible options based on your needs.
Final Thoughts
Overall, it seems likely that digital wallets will play an increasingly important role in the future of cruise payment options. As more people become comfortable with this technology, it's possible that we'll see even more innovative payment solutions emerge in the cruise industry and beyond. Digital wallets offer a convenient and secure way to make payments, improving the customer experience and reducing the risk of fraud or theft. Some cruise lines have already started offering digital wallet cruise payment options to their passengers, and it's possible that more will follow suit in the coming years.
FAQ
Before, the best credit card for cruises was the one issued by the cruise company. It would let passengers perform payments and would withdraw money from their bank accounts. Today, there is a better way - digital wallets. They require less effort and provide more profit.
Just like all the other payments do. Except that a digital wallet is linked to a cruise company's billing system along with a cruise credit card instead of a customer's bank account. So a passenger can pay for all the goods and services with a cruise ship digital wallet. And after the trip, those funds will be automatically taken from a passenger's regular bank account.
The future of payment methods on cruise ships is likely to be centered around the adoption of digital wallets. As technology advances, more and more people are becoming accustomed to using digital wallets in their everyday lives. For cruise lines, digital wallets offer a more efficient and secure payment processing system. For passengers, digital wallets provide a convenient and easy-to-use payment method.