Cruise Industry Future: The Impact of Digital Wallets on Cruise Ship Experience
In 2023, the cruise industry has no choice but to adapt to the digital age and improve customer experience through innovative payment solutions. With the rise of digital wallets and mobile payments, cruise lines are revolutionizing the way passengers pay for onboard services and goods.
So how do cruise payments work, and what are cruise companies doing to innovate and move with the times? Join us as we explore the impact of digital wallets on customer cruise ship experience, current trends in mobile payments, and the future of payment technology for cruising.
---
Cruise Industry Future: Mobile Payments on Cruise Ships
The cruise industry is a massive revenue generator, with millions of people worldwide opting for luxurious vacations onboard. Even the pandemic couldn't change that: after a sharp decline in 2020, the cruise industry's revenue is again on an upward trajectory.
Statista's 2023 report shows that cruise ship operators will serve 32.5 million people in 2027, with an approximate $1,000 ARPU (average revenue per user). By 2027, it projects those customers looking to relax and enjoy themselves aboard luxurious liners will bring in $35.87 billion.
However, the payment methods available to passengers have slowly evolved, with many cruise lines still relying on outdated systems. Although cruise lines operate in a cashless environment, mobile payments are rarely on the menu. The standard practice is to charge all onboard purchases to the guest's stateroom account.
So what payment method is the best to use on a cruise? Classic or innovative?
Сruise Payment Options: The Classic Key Card Approach
Upon boarding, a passenger receives a personal key card (and/or a wristband for some cruise lines). They can use it to access their cabin and all prepaid services and pay for extra goods and services on board. To complete a purchase, the passenger's card must be scanned by the staff, and the owner must sign the bill. The cruise line will charge their onboard account throughout the journey, and they'll receive a detailed bill at the end of the trip.
The benefits of this tried-and-true approach include:
Flexibility and ease of use;
Frictionless spending;
Adequate security (the card doesn't contain personal information).
And here are the drawbacks:
Guests must manually top up accounts;
It's difficult to track expenses in real time;
Pre-authorization charges may exceed actual spending (holds can take anywhere from five days to a month to clear).
The key card/stateroom account system is well-established and is still the go-to for most cruise lines. However, recently operators have started to offer alternatives.
Recent Developments in Cruise Payment Options
Cruise ship operators embrace innovation unevenly. When it comes to mobile payments, the process is painfully slow.
Some operators, such as Carnival, accept online payment wallets like PayPal, but only for buying their cruise packages.
Others, like Disney Cruise Line, recommend a workaround to clients who wish to use PayPal: buying gift cards to pay for their booking.
A handful of cruise companies are working on their own contactless payment solutions integrated with proprietary apps.
One example is Princess Cruises' Medallion Pay — a solution that consists of a wearable device with an NFC (near-field communication) chip and a mobile app. Guests can use their Medallions to pay for purchases on board and at partner locations at ports of call.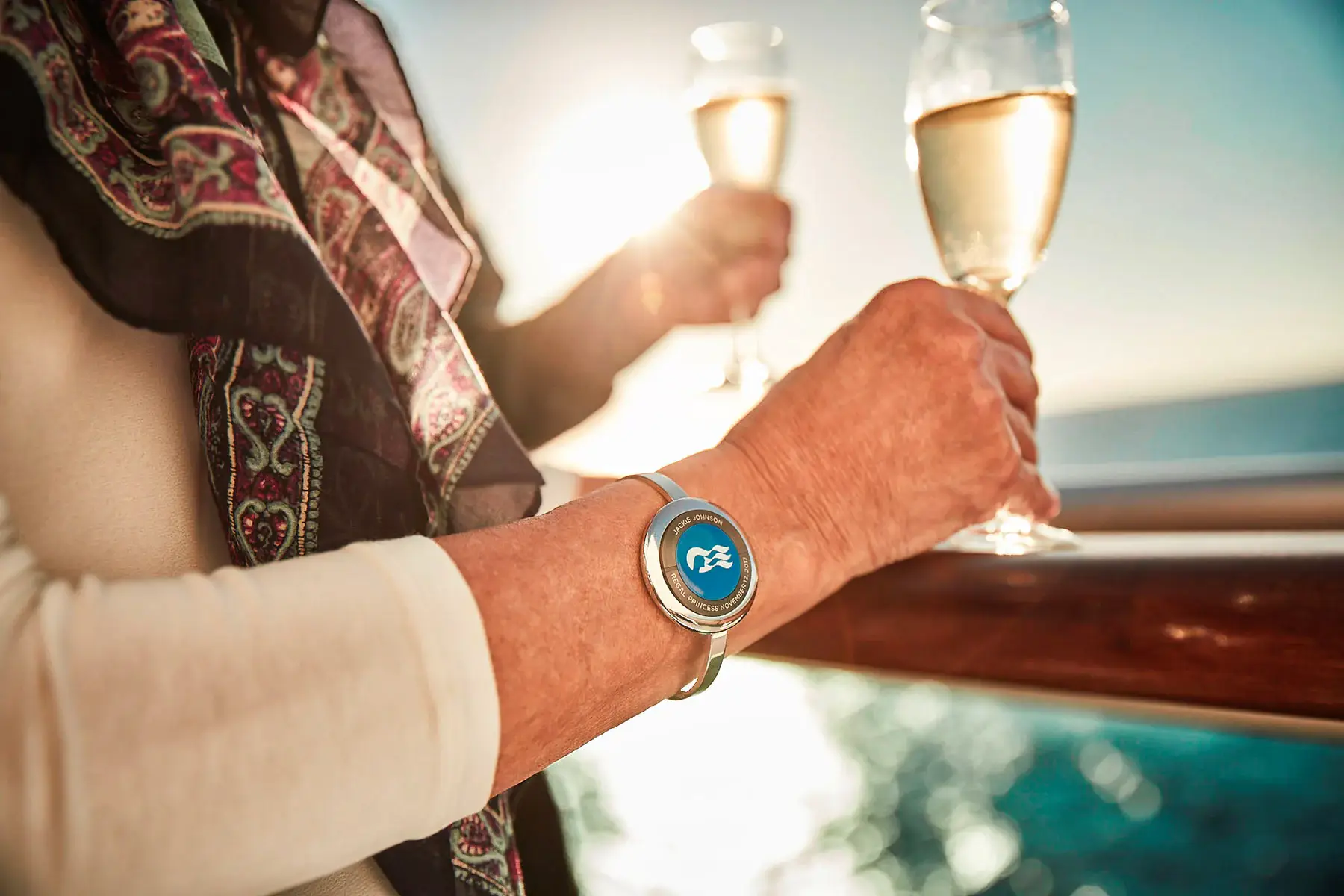 MSC Cruises offers its own NFC and Bluetooth-enabled band that works with its app. However, only the company's newer ships are equipped with the tech for this fully contactless cruise ship experience.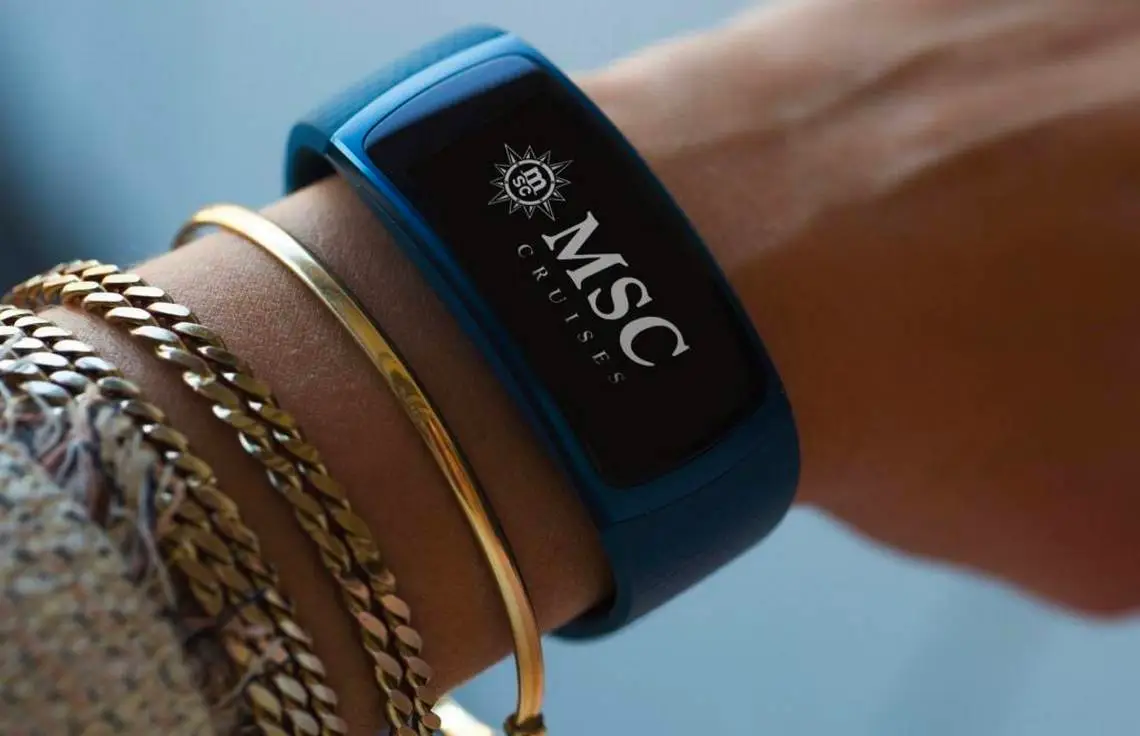 When it comes to mobile engagement, most cruise lines are moving at a good pace, creating apps and adding new features. Many of those applications have some characteristics of digital wallets: they store passengers' data, provide access to amenities, and help track spending.
However, cruise operators still lag behind in a few areas:
Even with those apps installed, customers can't use their NFC-equipped phones to pay at all stores and locations.
Paying with popular digital wallets like Google Wallet or Apple Pay is not accepted on board.
Guests have to use a stateroom account and wait for the final bill instead of paying using digital wallet on the spot.
Meanwhile, people have their phones with them most of the time. Cruise operators could use this opportunity to offer better mobile payment options.
A Digital Wallet on Cruise Ships: How It Works
Before we dive into the features of mobile wallets, we need to define the term.
What is a digital wallet?
A digital wallet stores a person's financial data and allows for safe, encrypted transactions online and at physical stores. Google Wallet, Apple Pay, Venmo, PayPal, and Samsung Pay are some of the most popular digital wallets.
A modern digital wallet app can store:
Credit and debit card info
Membership and loyalty cards
Train and plane tickets, transit passes
Driver's license and other forms of ID
Coupons and gift cards
Hotel reservations
Event tickets
Health certificates
Virtual car keys
Users of e-wallets can access a variety of services and make payments in an increasing number of scenarios. Mobile payments can be initiated using NFC, QR codes, or MST (magnetic secure transmission).
It works like this:
1. The app is downloaded, and an account is set up using credit or debit card details.
2. User authentication can be set up using biometric data (fingerprint or facial recognition), a PIN, or a passcode.
3. To make a purchase, the digital wallet is opened, and the phone is held near the terminal.
4. The app and the terminal exchange encrypted information regarding the payment amount and destination.
5. The transaction is verified and approved by the payment processor.
6. The money is transferred to the merchant's account.
So, would a digital wallet come in handy on a cruise? Definitely.
Using a Digital Wallet on a Cruise Ship
If mobile payments are supported on your ship, your guests can use their digital wallets in many situations, such as:
For boarding on a cruise ship
To pay for services and goods
For digital tipping
To access their cabin and other amenities
To track their loyalty points and get promotions in real time
To make orders and reservations
To redeem gift cards
To present health certificates (proof of vaccinations, etc.)
Overall, digital wallets offer consumers a level of freedom and convenience that cruise cards can't.
But let's talk about the cruise companies: what can they gain by adopting mobile payments?
Benefits of Digital Wallets for the Cruise Industry
Digital wallets help create a seamless payment cruise ship experience. But they also contain powerful features cruise companies can use to build stronger connections with customers, streamline operations, and increase revenue.
Here's what the adoption of mobile wallets can do for the industry:
Streamline payments
Customers trust e-wallet technology because they've used it before. Give your guests more options to pay quickly and conveniently, and their spending will grow. Add support for popular wallets, financing options, and mobile payments.
Add value by offering additional services
Your passengers are on vacation and are ready to spend. Unlock access to booking a transfer to the port, bill splitting, digital tipping, and more with a tap on the phone.
Improve customer retention
Win your guests' hearts with custom-tailored marketing: rewards, cashbacks, and loyalty programs. All of this in one app, which also offers mobile payments, works as a cabin key, and speeds up boarding. With an experience like that, your guests will be coming back for more.
Attract a younger and more tech-savvy demographic
Young adults love their smartphones and have their own bank accounts. In this research by Marqeta, 77% of Gen Z responders said they'd rather use mobile payments and leave their wallets at home. Why not give them what they want?
Your cruise company stands to gain a lot by introducing a well-rounded mobile wallet solution. Let's take a quick look at the process.
How Digital Wallets Improve Customer Cruise Ship Experience
If we had to sum up the perks of digital wallets in three words, they would be convenience, personalization, and security.
Simple, convenient payments
Your guests probably use Apple or Google Pay on their phones, so they expect the same level of service on a cruise. Digital wallets are a convenient way to pay for purchases on the ship without worrying about cash or credit cards.
Faster transactions
Mobile wallets process payments instantly, with no need to sign receipts. This can dramatically reduce queues at restaurants, bars, and so on.
Quicker boarding
With digital IDs and certificates, the ship's crew can quickly confirm the guest's identity and check their vaccination status at embarkation.
Real-time updates
Consumers today are used to instant notifications on their phones. E-wallet accounts are charged directly, so guests can track their spending.
A personalized approach
If your e-wallet solution tracks user behavior and buying habits, you can tailor promotions to your customer's needs. People react much better to personalized ads than to a one-size-fits-all approach to marketing.
Read more: The Future of Cruise Payment Options: How Digital Wallets are Revolutionizing the Industry

Digital wallets are familiar to many and meet modern consumer expectations. Introducing their use onboard is bound to be popular.
How to Implement Digital Wallet Solutions on Your Cruise Line
You can essentially take two paths: create your own digital wallet solution or integrate popular wallets in your app.
Building a Digital Wallet App from Scratch
To create a software product from the ground up, you need a team of experienced software engineers and testers.
Here are the basic stages of digital wallet development:
Defining business objectives
Establish what needs/problems your product will address (for both the customer and the business). What exactly do you plan to achieve? Is your solution viable? Are there competitor products on the market?
2. Gathering requirements
What features will your app have? Who are your users? How will the menus look and work? What are the expected peak loads? Which payment gateway will you go with?
3. Designing and prototyping
What kind of software architecture do you need? What tech stack (frameworks, languages, APIs, etc.)? What kind of user experience/user interface do you want to create, and which tools should your team use?
4. Development and testing
Your developers start writing actual code. Depending on the processes you choose, the product may get iterative updates, so you can add features and make changes along the way.
Your test team will simultaneously test the code for bugs and report them back to developers for fixing.
5. Deployment and launch
After a final round of testing, your digital solution will be deployed on the target infrastructure. Once your team confirms that everything works as expected, you will finally be able to launch your product!
Integration of Existing Wallets to Cruise Payment Options
The process of integrating popular wallets in your app is less intense.
Your team must ensure the payment gateway is properly configured and all security controls are in place. Additionally, your developers must be able to work with Xcode (for Apple Pay) or Google Pay API (for Google Wallet). You'll also need to test the system with your payment service provider.
Creating a complex digital payment solution for your cruise line is a challenging task. To get it right, you'll need a tech partner like ElifTech: we've worked in fintech for years and have hands-on experience developing digital payment products.
We recommend reading our article on developing a digital wallet to get an in-depth understanding of the process.
Mobile Wallets: Data Security Concerns to Keep in Mind
In general, an e-wallet designed by an experienced tech company shouldn't have any security issues. However, we want to make sure you understand the potential risks.
Here are some of the common security threats with digital wallets:
Identity theft;
Transaction interceptions;
Hacking of passwords and codes;
Social engineering.
But they can be prevented by using best security practices during development and by following security recommendations for users.
For instance, sensitive data in e-wallets is always encrypted, both at rest and in transit. So even if hackers intercept a transaction, they won't be able to use that data in any way. Digital wallets use biometric authentication methods, so it's nearly impossible to impersonate the owner if a phone is lost or stolen.
Last but not least, developers should plug possible data leaks using SSL (Secure Sockets Layer) protocols.
Security is one of the main selling points of e-wallets for consumers. What else will your passengers love about digital wallets onboard?
How to Market Your Technology to Increase Customer Engagement and Retention Rates
First, you have to know what today's customers want from a digital wallet. This report by McKinsey is a good source of inspiration, and the data presented here fully applies to the cruise industry.
There are a few things we can glean from the research and the graphs below:
Many American consumers use two or more forms of digital payment;
In addition to e-wallets made by tech giants or banks, users want solutions from retail brands they trust;
Consumers are primarily interested in loyalty programs, BNPL (buy now pay later) options, and one-time promotions.
Your marketing strategy can be pretty straightforward. Let your customers know you have what they want:
A modern digital payment solution that will add to the experience onboard;
A well-designed product that's consistent with your brand identity and works flawlessly;
An e-wallet that offers BNPL cruise payment options, loyalty programs, and promotions.
We hope this helps you get started on your marketing efforts. Although we're almost done, there's only one topic left to discuss — the future.
The Future of Mobile Payments in the Cruise Industry
Digital wallets are extremely popular with consumers. Nine out of ten Americans already use at least one form of digital payment, and numbers will continue to grow.
Cruise line operators have yet to fully tap into the potential of mobile wallets yet. Some companies are taking steps in this direction, but too few cruise ships support mobile payments. Customers, however, expect to see this option and would welcome it on their favorite cruise lines.
ElifTech can help you engineer a digital wallet app from scratch or integrate existing solutions into your app. We have a ton of experience in fintech and love to take on new challenges.
Get in touch today so that we can talk about your needs.