Theresa Regli
Landing page design and development
Theresa Regli project was centered around the redesign and development of a sleek, modern, and user-friendly personal landing page for Theresa Regli that embodies her expertise and personal brand.
The overarching objective was to leverage Theresa Regli's personal brand to redirect clients from her personal landing page to the corporate website, thereby increasing potential client interest in VoxVeritas' services.
Services we provided
Website Development
UI/UX Design
Landing Page Redesign
Knowledge Base Access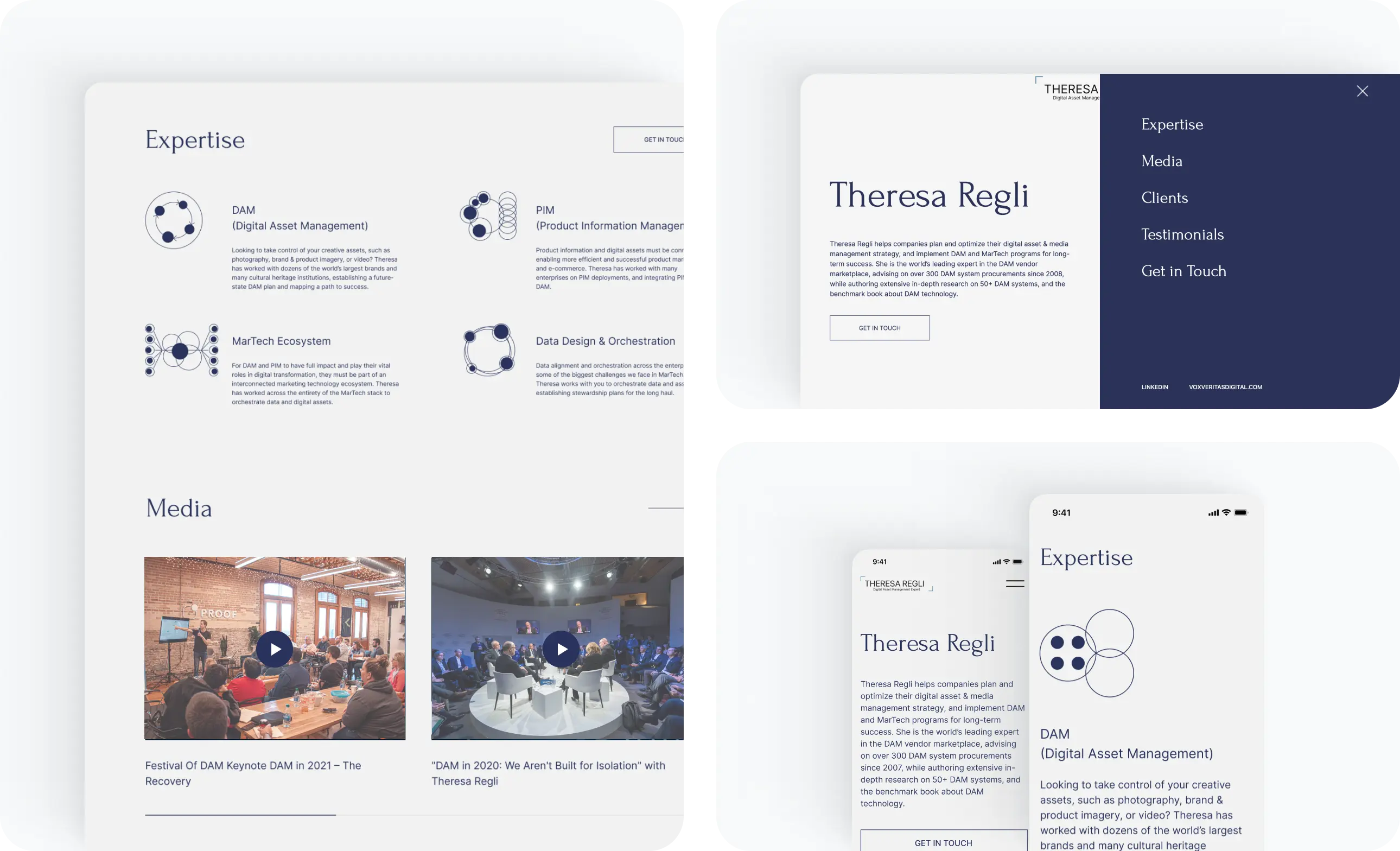 About the Client
Theresa Regli has been a leading expert in the DAM (digital asset management) industry since 2008, advising on over 300 DAM system procurements and authoring extensive research on 50+ DAM systems. Leveraging her personal brand, Theresa founded VoxVeritas to help companies plan, optimize, and implement their digital asset and media management strategies for long-term success.
Challenge
The project's primary challenge laid in designing a landing page that strongly resonated with Theresa Regli's personal brand while seamlessly guiding visitors to VoxVeritas' corporate site. The intricate balance of showcasing her individual expertise while driving interest toward the broader company posed a creative challenge.
Additionally, the challenge was to create a seamless user experience between the personal landing page and the corporate website while ensuring the incorporation of Theresa Regli's personal brand identity. The tight timeframe required careful project management and resource allocation to ensure the highest quality outcome within the deadline.
Solution
Visitor Flow Analysis & Optimized Navigation
Landing Page Redesign
UI/UX Design
Mobile Responsive Design
Brand Identity
Web Development
To ensure a seamless user experience and encourage visitors to explore both Theresa Regli's personal landing page and the VoxVeritas corporate website, we conducted a thorough visitor flow analysis. This analysis allowed us to understand how users navigate the website and identify potential bottlenecks or areas for improvement. Based on the insights gained, we optimized the navigation structure, strategically placing links and calls to action to guide users from the landing page to the corporate website.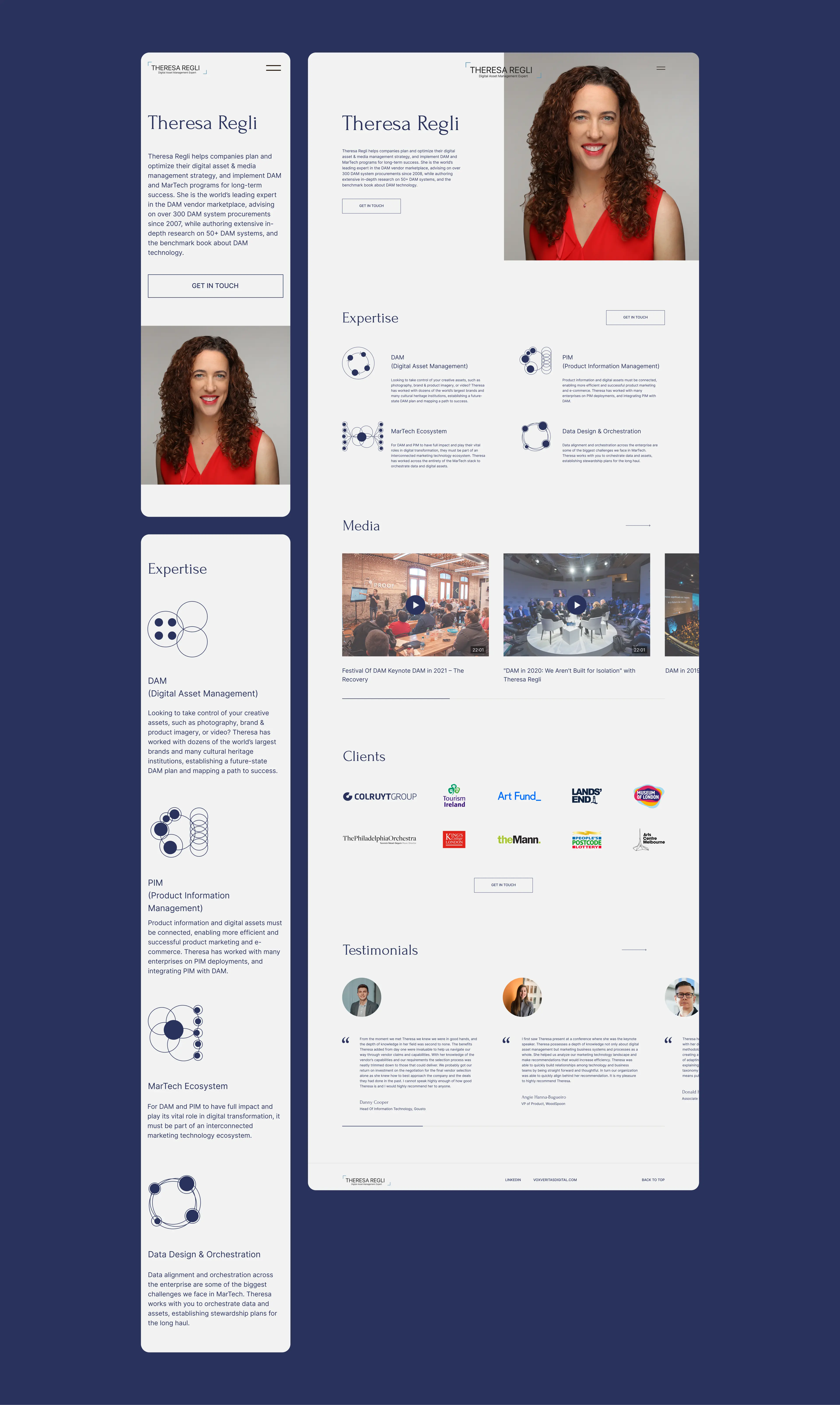 Key Results and Business Value
Enhanced User Experience
Improved Brand Perception
Seamless Mobile Experience
Scalable Content Management
Long-Term Business Growth
The UI/UX design solution significantly enhanced the overall user experience across Theresa Regli's personal landing page and the corporate website. Intuitive navigation, clear information hierarchy, and aesthetically pleasing design elements contributed to a seamless and engaging journey for visitors. This improved user experience translated into longer on-site durations and a higher likelihood of visitors exploring various sections of the websites.
Colors

Typography

Features Delivered
Personal Information Blocks with Contact Us Link
Knowledge Base Access (Course Links)
Company Information Blocks with Contact Forms
Theresa Regli's personal landing page featured information blocks containing her name, title, and a brief bio. It also included a prominent "Contact Us" link that directed visitors to contact form for inquiries.